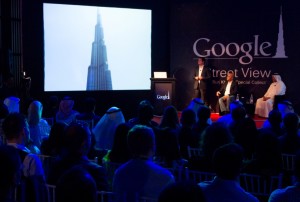 Google today launched Street View Special Collect for the world's tallest building, the Burj Khalifa, in Dubai, marking the first skyscraper to join the collection as well as the first time the technology has been deployed in the Arab world.
During a fairly well attended press conference from inside the Burj Khalifa itself, Google representatives announced that, in collaboration with Emaar Properties – the developer of the Burj Khalifa – the collection will be the first Middle East entry in the Street View collection, but that the entire Middle East will eventually follow.
Special Collect is a rare feature of Street View which captures "cultural locations which people wouldn't usually be able to see," including underwater reefs, famous museums and the White House. The Burj Khalifa has now been added to that list, being shot inside and out over a three day period.
The trekker device used to capture the 360 images has never been used at such altitude, and Google capturers were even placed on suspended maintenance units in order to capture external views from the very top of the building.
"We feel this is an excellent opportunity to put an architectural masterpiece in front of thousands of people every month," said Tarek Abdalla, Head of Marketing, Google, MENA.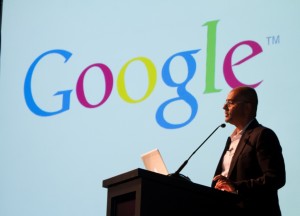 "We went to Emaar in October with a question of how we could bring this masterpiece to the world, and in the spirit of Dubai, we pushed the boundaries of technology."
Abdalla announced there is a dedicated website for the Khalifa collection; www.google.ae/streetview which takes visitors directly to the location.
The tour itself gives users 360 views of residential and commercial areas, the high-speed elevators, Sky lobbies, Corporate Suites and meeting room facilities, as well as the observation deck.
"Burj Khalifa is the pride of the UAE, and a true icon that underlines the strength of global collaborations to create new benchmarks in engineering, architecture and urban planning," said Mohamed Alabbar, Chairman, Emaar Properties, who wasn't present at the event, but delivered his message via video from the Google offices in Paris, France.
Mohamad Gawdat, Vice President, Google, Central and Eastern Europe, Middle East and Africa, delivered the keynote, saying that one billion people use Maps each month and that over 20 percent of searches are location related. This prompted Google to begin the Street View project in 2007 which is now available for over 3000 cities across 50 countries.
"We came to the UAE in 2007 and we realised that this place is very 'Googlely' – this is a phrase we use to describe a place with ambition and the vision to take on challenges in ways which nobody has before. The Sheikh says that its people really strive to be number one, and I really like that," Gawdat said.
Google Street View Special Collect Burj Khalifa is now live at the previously mentioned website.