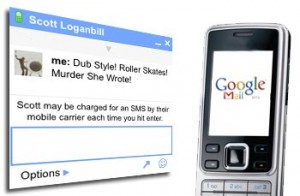 Google already allows Gmail users to exchange chat messages with mobile phone users via SMS in 23 countries worldwide, but now French mobile phone operator Orange wants to help the search giant extend the service across Africa and the Middle East.
Gmail SMS Chat allows a Gmail user to send short text messages to someone with only a basic mobile phone and no Internet access or Gmail account. The phone owner can also reply to the Gmail user. Phone users pay to send messages, and may also pay to receive them depending on their contract with their operator. The Gmail user pays nothing, although Google does impose a limit on the number of messages that can be sent: each message replied to raises the limit, allowing five new messages to be sent.
Orange and Google have now agreed to extend the reach of the service. The companies are focusing on such an old-tech approach to instant messaging, rather than promoting mobile Internet access because, according to Orange, 62.5% of the population in Africa and the Middle East have access to basic mobile phone service, but only 1.4% have broadband Internet access.
Orange currently supports Gmail SMS Chat in Kenya, Senegal and Uganda, and under the latest agreement will shortly offer it in Cameroon, Côte d'Ivoire, Guinea Conakry and Niger, with a trial version in Egypt, the company said Wednesday. Ultimately, it plans to extend the SMS-to-chat service to all 20 countries across Africa and the Middle East in which it operates, it said.
But Orange's ambitions don't stop there: The operator also hopes to deliver other, as-yet unspecified, Google services via SMS in Africa.