MEED's inaugural 'Innovation Live!' summit kicked off today at Jumeirah Beach Hotel, Dubai, in alignment with the UAE Innovation Week – a celebration of creative ideologies across the region.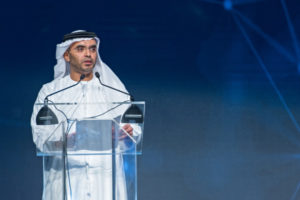 The morning session on the Inspiration Sta ge began with opening remarks from MEED's editorial director, Richard Thompson. "Innovation Live! is about creating an ecosystem that allows ideas to bloom and thrive," he said. "We are trying to make the UAE – and particularly Dubai – the centre of innovation and creative thinking. In order for us to succeed, we need to let people know what we're doing here."
H.E. Majid Saif Al Ghurair, chairman, Dubai Chamber of Commerce, was next on stage. He said, "Innovation is critical for our enhancement of the economy. It's clear that any government that is slow to adopt innovative strategy and solutions will eventually find it difficult to meet the demands of their society and the future." He added, "Ambitious targets have been set to transform the UAE into a knowledge based economy, which we have already seen evidence of in initiatives for Smart Dubai and Expo 2020."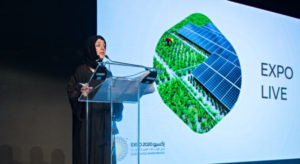 This led on to the VIP keynote session from H.E. Reem Ebrahim Al Hashimy, director general, Expo 2020 Dubai Bureau, who outlined Expo's role in promoting the UAE as one of the most innovative economies in the coming years.
"Expo 2020 Dubai will be a celebration of ingenuity and innovation. We believe in the power of connections, between people and ideas, to create the future," she said. "This spirit of collaboration and innovation is central to the meaningful legacy that we plan to leave. We are working with supporters, stakeholders and partners including global businesses, SMEs and government bodies to realise this ambition."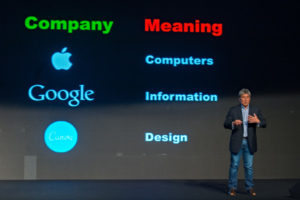 Guy Kawasaki, evangelist at Canva and former evangelist at Apple, then detailed a number of points to enable "the art of innovation." He quoted the Bobby McFerrin song, 'Don't worry, be happy' before altering the lyrics to 'Don't worry, be crappy' as his primary advice to innovators. He said, "If you are the first refrigerator, you do not have to be perfect. Even if you're a piece of crap, you're a revolutionary piece of crap and that's all that matters. If you wait for the perfect product in the perfect world, you'll never ship – and geniuses ship."