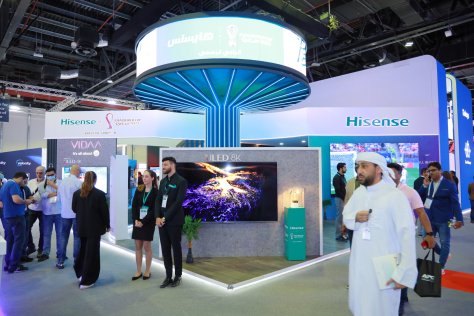 Hisense, the global electronics, and whitegoods manufacturer, is exhibiting at GITEX Global 2022, the world's largest tech show hosted in Dubai, showcasing its comprehensive line-up of advanced technology spanning multiple industry verticals, with a view to upgrade the technological standard of the industry. It has been a mission of Hisense to pursue scientific and technological innovation, take the lead in the advanced manufacturing with intelligence as the core, and bring happiness to millions of families with high-quality products and services.
The Hisense stand also welcomed His Excellency Zhang Yiming, Ambassador of the People's Republic of China and The Consul-General of China in Dubai, Li Xuhang, who lauded the display of technology put forth by Hisense in the Middle East region.
Jason Ou, President of Hisense Middle East & Africa said: "In recent years, there has been a significant development and strategic growth for Hisense in the Middle East region, this reinforces the brands acceptance in terms of products and technology by the businesses and end users".
At the GITEX Global 2022, demonstrating Hisense's recent foray into the medical sector, one of the brands newest products on display is the Ultrasound imaging technology developed in-house by a team of R&D engineers. Equipped with an advanced GPU architecture, the range focuses on high-definition image quality and various imaging modes suited to general and specific requirements. It also announces the availability of a 55" endoscopic monitor that features innovative technology for image clarity and connectivity in the region.
Alongside these are Hisense's latest commercial display sets, including a vision board, video wall, digital signage, LED, and its crown jewel: a new 138" all-in-one boardroom display (HAIO138). Outside of the 160-degree viewing angle, the display offers 7,000:1 high-contrast ratio, seamless splicing, cinema grade colour gamut, and can be used across Windows, IOS, and Android.
To ensure it is catering for the consumer and home experience segment, Hisense is allowing visitors to go hands-on with its new Laser TV (100L9G), the latest large-screen product from the TriChroma Laser TV series. The 100-inch TV has revolutionised the market, providing an immersive, eye-friendly experience for home cinema viewers. Also on display is the most recently announced 8K mini-LED TV with user friendly and advanced VIDAA OS.
He further added, "The modern tech era has brought unprecedented upgrades not only to the tech industry but also into the lives of end user, and it continues to transform businesses' efficiency and services' quality year on year. Through our participation at GITEX Global, we demonstrate to our partners the state-of-the-art technology and developments that Hisense has in all the tech domain – from B2B to B2C. We aim to bring transformation through smart technology as well as continue to explore ways to transform this tech ecosystem. It is the perfect platform to connect with customers and cement our position in the market – all while showing the industry how our focus on smart technology is positively transforming our business".
This year, Hisense also launched 'Connect Life', an innovation in our extensive line of consumer electronics that is smart app-based technology to control appliances from your smartphone. Through this technology, customers can connect their home appliances to their phones via an app, making it easier in connectivity of appliances. For instance, switch on the AC before you enter home, control the temperature of the refrigerator, time your washer, quick start your dishwasher regardless of where you are!
Hisense has ambitious plans to elevate its brand awareness across the region, with the recent official sponsorship of the upcoming FIFA World Cup Qatar 2022. Through this collaboration, Hisense has witnessed increased brand awareness that has translated into not only increased sales but also high brand awareness in the Middle East region.