Honor launches its flagship smartphone of 2018 in the UAE. Honor 10 phone brings to life the concept of "Beauty in AI", and reveal two major ground-breaking and industry leading technologies to consumers.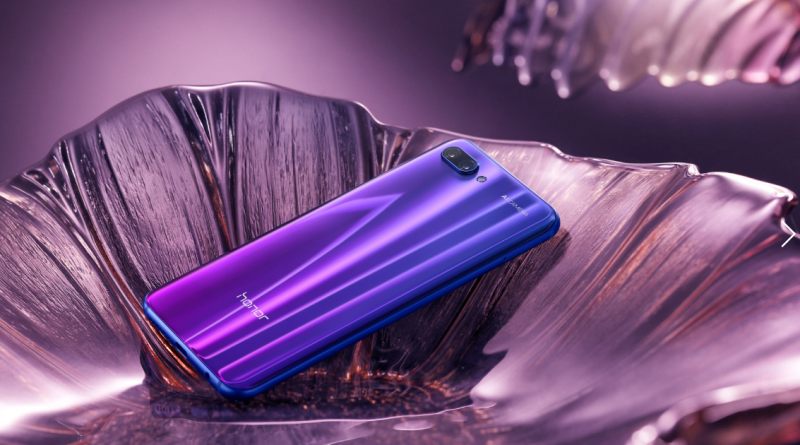 According to the firm, advanced AI 2.0 technology, has been integrated into the smartphone's dual-lens camera. Second is the Honor 10 CMF design, a 3D glass back with a stunning nano-scale optical coating composed of 15 layers of shimmering color. Honor 10 will be available on 22nd of May at 1699 SAR for purchase at retail stores (Jarir bookstore, Extra and others) and honor's KSA website.
According to Chris Sun Baigong, Vice President of Honor in the Middle East and Africa, before 2016, most phones came in just three colours: black, white and gold. "Honor introduced Phantom Blue in 2016, Phantom Grey in 2017, and now the exquisite Aurora, a true breakthrough in smartphone design".
Sun Baigong added, "We believe the recipe of success is simple – give consumers a really good product! That's what we work hard for everyday at honor. But we don't just stop at making a good product. We want to co-create a new lifestyle with young people worldwide. We listen to them, we bounce ideas around with them, and we cheer for them. They are our inspiration."
With the innovative devices and a precise targeting strategy, Honor continues to lead the industry in its home market as the No. 1 smartphone e-brand in China, while expanding rapidly overseas. The brand has achieved 100% growth in overseas markets since its inception.
AI 2.0 Camera
Honor 10 24MP+16MP dual-lens AI camera was developed and supported by the NPU processor in the AI chipset with built-in NPU, which means it recognizes 500+ scenarios in 22 categories in real-time. It can pinpoint the outlines of various surrounding objects, like the sky, plants, people or even a waterfall, and identify their locations instantly.
This feature is supported by the industry-first Semantic Image Segmentation technology, which allows Honor 10 to identify multiple objects in one single image. It is here where Honor 10 really stands out from the crowd. These industry-first Honor 10 features apply scene-specific parameters to each photo in real-time when taking a picture, making every photo you take a professional shot with just one click.
Not only is the rear camera supported by AI 2.0 technology, Honor 10's 24MP front camera is your intelligent selfie companion. It supports 3D face recognition, optimizes facial details and detects over a hundred facial points to pixel-level accuracy.
Honor 10's front camera also supports studio lighting effects with a range of lighting conditions. The advanced and precise facial recognition ensures an accurate wide aperture, and captures subtle features of everyone's face, even in a 'groufie' shot.
Upgraded and Intimate Experience
Honor 10 is powered by an independently built-in NPU processor. The 4GB RAM and 128GB ROM storage gives sufficient space to stock all your exciting moments recorded in galleries, apps and files. Honor 10 also comes with Honor Super Charge 5V/4.5A with the 3,400 mAh (typical value) battery, which can recharge 50% of power within 25 minutes.
Honor 10 is based on the latest EMUI 8.1, which represents an overall upgrade in software function and capability, and particularly features the Easy Talk function which reduces background noise in a windy environment when you're talking hands-free on the road, and it also increases the volume of whispering for quiet conversations.