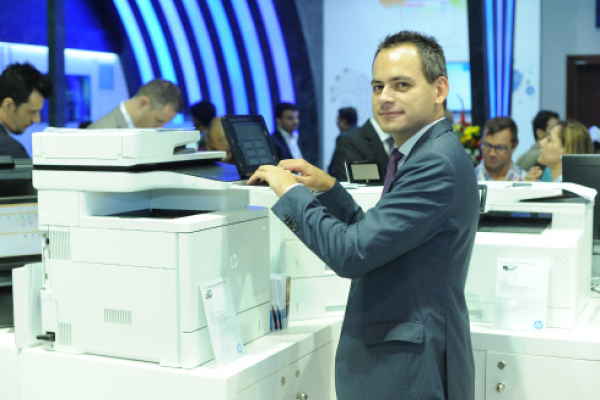 This year at GITEX, HP is showcasing its new range of printers, powered by its new toner technology dubbed Jet Intelligence.
"This GITEX is very important for us, especially for the printing business, because we have never brought to market so many new products as we did this year. The HP Jet Intelligence is the biggest innovation in the print industry since the laser jet technology. In Spring 2015, we added this technology to our colour laser printers, and this year's GITEX we have extended it to our monochrome printers which also sport precision black toner, leading to more yields per cartridge," says Pawel Miskiewicz, Print H/W category manager, HP Middle East.
He adds that this new laser jet technology from HP enabled higher yields, improves the printer performance and brings new security features. "Some of these devices consume 40 percent less power and are much smaller in form factor. What we have done is to take the technology from HP notebooks and extend it to printers to make it more secure with new feature such as HP Sure Start, Secure White Listing and Run-Time Intrusion Detection. All these devices come pre-installed with toners, which supports anti-fraud technology and anti-virus like capabilities so that hackers can't use printers to gain access to corporate networks," says Miszkiewicz.
The new line-up of laser jet printers and MFPs at the show include HP LaserJet Pro M402 series, which is a monochrome printer targeted at compact workspaces, and Pro M452 series that delivers fast colour printing performance with up to 48 percent faster first page out than its predecessor. Also on the display is HP colour LaserJet Pro MFP M477 series, which offers dual-sides scanning and support for documents workflows, including scan to email, folder, USB and cloud capabilities.
"With these devices, we are continuing our effort to help secure their print environment, from boot up to shut down, by bringing in built-in security features to the Pro series. The new printers are ideal for small and work teams with 3-10 users printing up to 4,000 pages a month," says Misckiewicz.
Globally, the sluggishness in the PC market has spilled over to the printing market, affecting sales, but Misckiewicz says it hasn't had an impact on the Middle East market. "What is really affecting the market is the issue of parallel imports from Asia-Pacific with strengthening of the US dollar, and we are working with local authorities to address this issue," he adds.