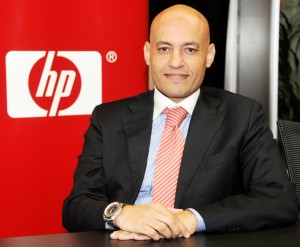 As part of its Middle East Storage Roadshow, HP on Wednesday launched a new portfolio of storage platforms for enterprises of all sizes in the UAE. The firm called the new range the "most significant set of new storage platforms in over a decade".
The event saw the UAE launch of a number of new products, including the HP 3PAR StoreServ 7200 and 7400, the HP StoreAll platform, and the HP StoreOnce 2000 and 4000.
The StoreServ products, HP claimed, bring Tier 1 capabilities to the mid-range market, and StoreAll offers converged object and file storage services on a highly scalable platform. The StoreOnce products, meanwhile, offer the industry's only back-up and recovery solution with federated deduplication, the firm said.
According to HP, one of the range's biggest draws would be the fact that it uses a single architecture across all of its products, from the entry-level to high-end solutions.
The Storage Event, held at Dubai's Mina A'Salam Hotel, began with a keynote speech from Walid Gomaa, Storage Works Business Manager, HP Middle East, who stated that the firm had meticulously planned the release of its new storage solutions. He went on to preview HP's storage strategies, and touched on the capabilities of the new range.
"We took all of the characteristics, functions and capabilities of high-end products, and put them into mid-range and entry-level products," Gomaa said. "The problem that our customers were facing before was that, in the mid-market segment, they wanted to have all of the features and functions of a high-end product, but they couldn't afford it."
HP claimed that its new StoreServ 7000 products can bring Tier 1 capabilities to customers for less than $40,000. The firm also said that, with one of the 7000's related processes, it could "guarantee" customers they will save from 30 to 50% of space on their existing storage products.
Following Gomaa's presentation, the floor was taken by Morad Qutqut, Presales Consultant Team Lead, HP Middle East, who explained, in detail, about the capabilities of 3PAR technology and the StoreServ 7000 line, which uses 3PAR.
"This technology allows your system to cope with numerous applications at the same time," said Qutqut. "With the old technologies, you have to allocate parts of memory for different applications, and you have to factor in downtime. With 3PAR, you can add unpredictable workloads and not face any system downtime."
Following on from Qutqut's speech, Gomaa added that government sectors, financial sectors and healthcare sectors had all adopted 3PAR technology. He also said that HP is currently the only company that provides this kind of storage solution.
HP said that it hoped the StoreServ 7000 series, in particular, would take hold in the Middle East. Gomaa said, "We're expecting that the 7000 will ramp up big-time in the mid-market area. The StoreOnce, in the back-up area, is a key requirement, too, because our customers are thinking about how to protect data and how to retrieve it. These two products, I would say, will be leading."