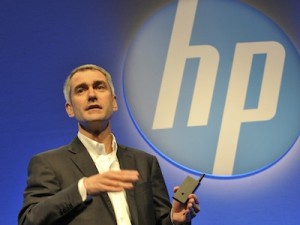 Today marked one of the biggest one-day HP events ever to hit the Middle East, with its Road To Innovation show stopping off at the Jumeriah Beach Hotel in Dubai.
As well as hundreds of delegates, customers and guest speakers, it was also the first time that executive board member and company COO, Bill Veghte, had visited the region.
Veghte has spent the last three days travelling the region in order to demonstrate the company's commitment to emerging markets, as well as personally address major customers which may have previously not had access to such high profile board members.
Also, when speaking previously to CNME, HP's managing director for the MENA region, Eyad Shahibi, hinted that more and more executives would be visiting the UAE this year, potentially culminating in a personal visit from the CEO herself, Meg Whitman. If Veghte's enthusiasm for the region is anything to go by, you can be confident that Whitman's travel plans may well be underway already.
"Meg is absolutely unique – she's tremendous," said Veghte, during his only UAE interview, exclusively with CNME.
"To survive and fit into this company, you need to be of a certain sort. You need to know that this is the biggest IT company in the world and that it's built on a culture of innovation."
Veghte could not have spoken more highly of Whitman and HP following his move from Microsoft, where he spent 20 years before his switch to HP in 2010. Veghte, alongside Steven Sinofsky, was instrumental in the roll-out Windows 7, possibly the most successful version of the operating system to date, shortly before his move, begging the question, why take on the challenge after 20 successful years at Microsoft?
"HP is a people company, make no mistake about it. When I joined, I was receiving hundreds of messages from people I hadn't even met, congratulating me and welcoming me on board. This is the type of mentality that fits with my personality, you need to be of a particular mould, and I feel at home here," he said.
"In the early days at Microsoft it was very similar to that, but for the last five or so years leading up to my move, it wasn't about that anymore. Don't get me wrong, Microsoft is a fantastic company and they're doing fantastic things, but nobody is innovating and focusing on such a broad portfolio which is so completely platform agnostic, channel driven and customer targeted as HP."
Veghte was also keen to praise Shahibi and his team for the work which had been done over the previous few years, claiming that Whitman and the board is expecting big things from the Middle East team in the coming years, as it helps companies productively make the transition into the new style of IT.
"What you've got here is a complete lack of legacy technologies which is fantastic, it's a great opportunity to implement these new trends and start fresh, and we see huge potential here. Eyad (Shahibi) and the team here have done a fantastic job and we fully expect them to continue doing so."
With Veghte now in the COO role, and many analysts and reports suggesting that the next CEO will be internally hired, it's natural to assume that he will most certainly be in line for the role. Veghte grew the software division 18 percent during his first fiscal year and as a man who works hand-in-hand with Whitman, he certainly knows his way around a company which he claims he wants to be with for the long haul. Although, when asked, he wasn't about to give anything away.
"At the moment, me, and the rest of the board, just want to focus on making HP the best it can be."
For a full report on the Veghte interview, as well as an analysis of the recent Moonshot server launch, be sure to pick up the next issue of CNME.