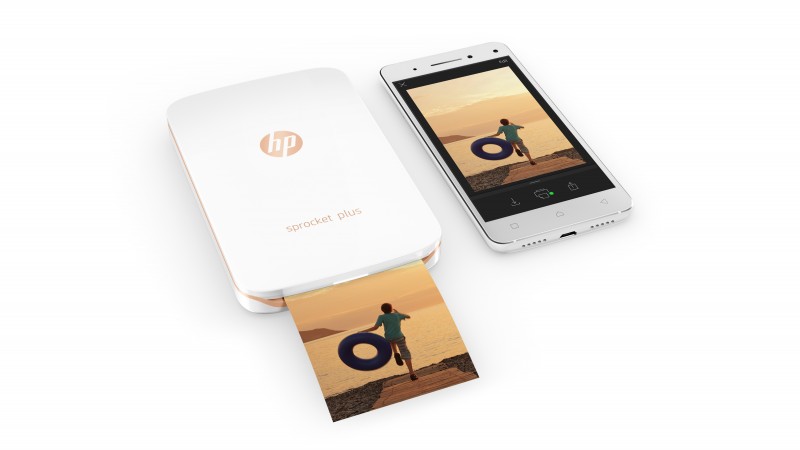 HP has expanded its mobile printer Sprocket line-up in EMEA with the introduction of Sprocket Plus. The newest pocket printer produces prints 30 percent larger than the original Sprocket, according to the company. Creating 2.3" x 3.4" (5.8 cm x 8.6 cm) photos, the Sprocket Plus enables photo lovers to print images instantly, directly from a smartphone.
Available in a sleek white design, its free-to-download HP Sprocket App for iOS and Android allows users easily print their favourite images with a simple two-tap process, just select an image and press print. Users can personalise photos with frames, emojis, text, stickers and filters. The app can also be connected with social media accounts to instantly turn any photos into prints to share physically or scan physical photos to relive moments with magic frames.
Stephane Rogier, head of Print Business unit, HP Inc, said "Our love of photographs has never been so strong. Whether we're documenting holidays, birthdays or fun times with friends, there is no better way to relive special moments than with a printed photograph. We live in a world where we click what we like and print what we love. The Sprocket Plus is the go-to gadget for those who want to capture special moments and relive them over and over again."
The prints are produced using ZINK Zero Ink Technology, meaning all the colour required is embedded in the HP photo paper itself. Users needn't worry about running out of ink. The Sprocket Plus delivers prints that are sticky-backed, smudge-proof, and water and tear resistant. They are perfect for creating photo albums, decorating lockers, bedrooms or desks, and creating personalised gifts all year round.
HP is also reinventing photo editing with an enhanced mobile experience incorporating augmented reality (AR) technology. With the "Relive Memories" feature, users can simply scan a photo via the App and automatically attach it to a video that plays in AR on the phone.
The HP Sprocket Plus is now available in white with rose gold accents, accompanied by a 10-pack of HP ZINK Photo Paper for AED 599 (excluding VAT). Packs of HP ZINK Photo Paper (20 sheets per pack) are available at 49.95 AED (excluding VAT) each. The pocket size printer is available exclusively at all leading retailers including Sharaf DG, Carrefour, E-max and Jumbo.