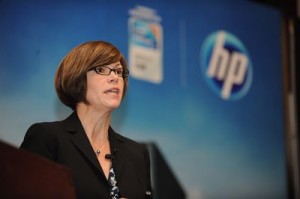 HP today announced a partnership with Application Delivery Networking (ADN) company F5 to introduce technology that allows enterprises to deliver policy-based orchestration across applications, networks and users.
The new technology will offer what HP calls "industry-first solutions" that converge application and network orchestration, eliminating manual configuration and enabling application deployment in minutes.
The announcement of the partnership and new solutions was made by the two companies today at Interop 2012 in Las Vegas.
The solutions provide single-pane-of-glass management through HP Intelligent Management Center and offer clients the ability to meet the speed and agility requirements of the cloud era.
They are based on the integration of HP Virtual Application Networks technology, which virtualises networks and automates configuration, and F5 ADN technology, which does the same for application configuration.
"IT needs to move at the speed of the organisation but legacy application, network and user configuration practices are barriers to achieving this necessary agility," said Bethany Mayer, senior VP and general manager at HP Networking.
"Through HP Virtual Application Networks and our collaboration with F5, clients will be able to virtualise and automate the entire configuration process—from application to network to user—based on policy-driven management, enabling them to deploy applications to users in minutes, not weeks or months," Mayer added.
HP Virtual Application Networks provide organisations with a virtualised and comprehensive view of a network, and enable them to transform a rigid physical enterprise network into a programmable, multitenant and application-aware virtual network.
Leveraging software-defined networking technologies such as OpenFlow, HP Virtual Application Networks use templates to characterise application-delivery requirements and deliver an automated, policy-driven approach to network configuration.
F5's portfolio of ADN solutions enables customers to manage the delivery of applications across their entire IT infrastructure. F5 ADN solutions create a dynamic infrastructure that maximises the performance and availability of physical and virtual machines to manage application delivery across multiple devices.
HP and F5 are delivering tested and validated solutions for deploying Microsoft Exchange 2010, server virtualisation and disaster recovery across the enterprise in minutes, while increasing the performance of virtual machine mobility tenfold.
The companies said they are simplifying enterprise BYOD (bring your own device) initiatives by delivering solutions that combine user and device authentication and application access control.
The HP Technology Services portfolio includes the HP Network Infrastructure Optimization Assessment, HP Network Application Delivery Controller Services for Microsoft and HP Data Center to Data Center Network Optimization Services.
The HP Network Infrastructure Optimization Assessment lets companies work with HP consultants who analyse traffic across network topology to identify application delays, jitter and bandwidth issues. In addition, HP works with clients to align business and IT needs and identify the right solution for them.
HP also launched its Network Infrastructure Optimization Services portfolio, designed to help customers evaluate and improve their network flow and infrastructure to ensure a quality user experience.
The company said the portfolio spans network topology —from within the data centre and between data centres to wide area networks (WAN) and local area networks (LAN) — to identify and eliminate inefficiencies, while optimising infrastructure to make applications run faster.
"With a dispersed workforce and growing connectivity demands, enterprises can no longer revert to traditional singular quick fixes, such as adding bandwidth, to address network issues. HP's new services pinpoint inefficiencies that can be removed for a greater end-user experience," said Imran Khan, VP of network consulting at HP.
The HP Network Infrastructure Optimization Assessment and the HP Network Application Delivery Controller Service for Microsoft are now available globally. Pricing varies according to location and implementation.
CNME sub-editor Ben Rossi is reporting live from Interop 2012 in Las Vegas this week. You can follow live tweets at @computernewsme and #interop.