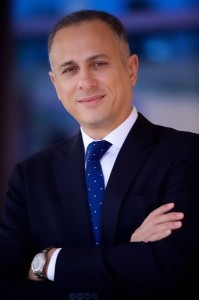 HP aims to showcase an enormous range of enterprise solutions at GITEX Technology Week 2013, with cloud, security, Big Data and mobility forming the crux of the vendor's participation at the show. 
According to a statement, HP hopes to bring enterprise customers new ways to "unlock the new style of IT" with its products at GITEX.
"GITEX Technology Week is an event of high importance that brings all IT players together across the Middle East," said Eyad Shihabi, Managing Director, HP Middle East.
"HP is delighted to participate in this conference and share our experiences in delivering the most cutting-edge technology for customers, from enterprise level to personal computers and printing systems. HP is pleased to be promoting discussions on important areas of IT such as cloud computing, security and mobility this year at GITEX."
In the realm of Big Data, then, HP will showcase HAVEn, a Big Data analytics platform that combines technologies from HP Autonomy, HP Vertica, HP ArcSight and HP Operations Management, as well as Hadoop.
The first solution built on HAVEn HP Operations Analytics, which allows organisations to consume, manage and analyse "massive" streams of data from a variety of HP products, as well as third-party sources, HP said. HP has also recently introduced Actionable Analytics Services, which HP said enable clients to extract hidden insight within Big Data, as well as streamline key organisational processes. Naturally, HP Analytics Services will also be showcased at GITEX.
In terms of security products, HP said that its approach to security disrupts the cycle of an attack with prevention and real-time threat detection. New offerings that will be showcased at GITEX include HP Threat Central,HP TippingPoint Next-Generation Firewall, HP ArcSight, HP Fortify and HP SureStart.
The vendor will also educate GITEX attendees about HP Managed Security Services, which HP said can help internal security teams accelerate threat identification, response and remediation by providing expertise and advanced security intelligence.
Of course, cloud will be a big feature of HP's participation at GITEX. The base of HP's cloud offering will be HP Cloud OS, an open and extensible cloud technology platform that leverages the power of OpenStack technology to enable workload portability, simplified installation and enhanced life cycle management across hybrid clouds. The vendor will also showcase HP CloudSystem, its private cloud offering, which embeds HP Cloud OS technology, offering customers greater choice in deployment options. To help customers get started quickly with an initial private cloud deployment, HP will also offer the HP CloudSystem Enterprise Start Suite, which it claimed can reduce up-front costs by 20 percent. HP Moonshot servers will also be offered with HP Cloud OS at GITEX.
To tackle mobility, HP will also feature a portfolio of new business notebooks and Ultrabooks. At its stand will be the HP EliteBook 800 series – due to be released in the Middle East at the end of October – and the HP ProBook 600 Series, which will be released at the end of November.
HP's stand will be at CLD-7, Hall 6, Dubai World Trade Centre.