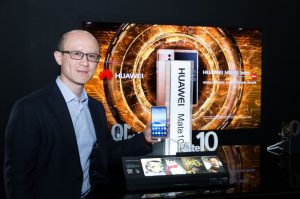 Huawei Consumer Business Group (CBG) has announced that its first 'Experience Store' in the United Arab Emirates (UAE) is now open at The Dubai Mall. The store offers consumers a full retail experience, which includes access to Huawei's latest products and services under one roof. All new products will now be available for pre-booking and sale at the same time as its global launch.
The firm said that the opening of the first brand store in the Middle East and Africa represents its commitment to the region and the next step in its mission to deliver "breakthrough technologies, provide exceptional customer service and set new industry standards in innovation."
Gene Jiao, president, Huawei Consumer Business Group, Middle East and Africa said, "The new Huawei 'Experience Store' is definitely a milestone in our history in the region. Its strategic location within the city of Dubai, one of the most dynamic cities in the MEA region and the 'Centre of Now', allows us to reach consumers in and around the region. The Dubai Mall is the iconic place for high-end technology brands to showcase the latest products with cutting edge technology. Ultimately, in line with our global consumer centric strategy, our goal is to provide a better choice and a more comprehensive experience for our regional consumers."
The new experience store will be Huawei's main hub for it is regional fans and consumers to get hands-on the latest innovative products from their brand of choice, according to the firm. Last week saw the first regional sale day of Mate 10, where customers lined up outside the new Huawei experience store.
The sleek and futuristic design and layout of the 1,312 sq. ft. store offers customers a space to explore Huawei's Mate 10 and Mate 10 Pro. Pre-booking of the Mate 10 Pro will be available from the 13th of November in the store.
The 'Experience Store' also features a dedicated kids' zone, where they can experience Huawei Kids' media pads, which combines play with learning to keep the little ones entertained. The store also compliments Huawei's existing service centres in the region where customers receive assistance and shorter service cycles for their devices.
The store is open daily from 10am – 11pm, Sunday to Saturday, and is located next to the metro link corridor on Level 2 of The Dubai Mall.