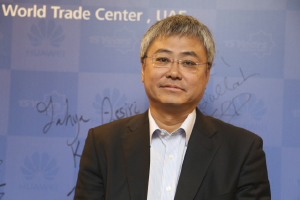 During Huawei's vendor and customer presentation held alongside GITEX Technology Week expert from the technology company shared insight on its latest offerings in the market.
Among the speakers who gave a keynote was W.K. Leung, CTO, Solution Sales, Enterprise Business Group, Huawei, who spoke about various technology trends they foresee in the coming years.
Leung identified that in the coming years, technologies such as Big Data, mobility, Internet of Things and connectivity among others can significantly impact various industries regionally and globally. He further highlighted that these factors will then drive tremendous change among organisations.
Speaking about the importance of the Middle East market for Huawei, Leung said that it is one of the most important markets for the company. "The Middle East is more or less the same size as the domestic China market, which makes is one of the major components of for Huawei's presence in the EMEA region," he says.
The Huawei chief underlines the crucial role of events such as GITEX in terms of reaching out to their customers. "This presents us with a great platform to inform our current and potential customers of the latest offerings that we have. It's also a great opportunity to catch-up and engage with our resellers," says Leung. "At Huawei, our business models vary depending on the line of businesses that our products and solutions cater to. So, events like this are very instrumental in communications these business models to our channel partners."
This year, Huawei's participation at GITEX features demonstrations and presentations of its latest products and solutions, which according to Leung, has strategically been segmented by industry.
Among the offerings that Huawei launched at the mega technology event are the OceanStor 18000 V3 and FusionCloud Desktop Solution 5.3, which are next-gen cloud and storage solutions. It also unveiled the Smart In-Vehicle IoT solution, which uses Huawei's Agile IoT Gateway as a mission-critical component to offer a variety of services such as in-vehicle video surveillance and accurate passenger tracking.