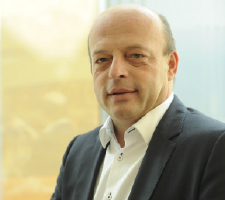 Pure Storage has come to GITEX this year with the fourth generation of their flagship FlashArray on hand. Launched in June this year in conjunction with Pure 1 – the company's new cloud-based management and support offering – and Evergreen Storage – a new model for storage procurements and upgrades, FlashArray aims to provide storage that is simple and more efficient. The new FlashArray eliminates forklift upgrades and data migration burden from storage ownership. "Now," says Christian Putz, Sales Director, EMEA, "storage can contribute meaningfully to transforming customers' business and IT infrastructure for higher growth and profitability."
Compared to the enterprises in countries like US and Europe, enterprises here in the Middle East are still relatively green field, says Putz, and not encumbered by legacy infrastructure. "Regional enterprises also seem to have a bigger appetite for adopting the latest technologies and this is particularly relevant to storage. Our main goal for the show is to interact with potential customers and explain the significant business benefits they can reap by switching from disk to AFA," he says.
GITEX has grown significantly over the years, and Putz can see the change, even in their second year participating in the show. "GITEX is the equivalent of the "Super Bowl" for the Middle East technology community – while this is only our second year participating at GITEX, as we continue to grow our presence in the region, GITEX is a critical platform to help us build our brand awareness, meet with potential clients and continue to educate regional enterprises on the advantages of AFA storage," says Putz.