Middle East, April 18, 2021: The President of Huawei's Carrier Network Business Group in the Middle East has recently unveiled what the company believes will be key features of the future target network. Based on a "GUIDE" model, these features are examined in detail in the NetX2025 Target Network Technical White Paper, which was showcased to organisations in the Middle East for the first time at the recent SAMENA Leaders' Summit 2021.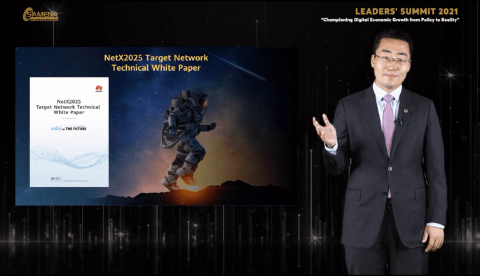 An Jian, President of Huawei's Carrier Network Business Group in the Middle East, noted that as transformation towards an intelligent society accelerates, all industries are entering the digital era in which ICT infrastructure will play a crucial role in the digital economy. For telecom operators, their customers and service types are changing, and there will be even more uncertainties in application scenarios. This raises the question of how operators can best address these challenges and seize related opportunities. Huawei has recommended that operators should make a target-network plan today in order to seize the prospects of tomorrow. With target-network planning, there is a change in focus from traffic-centric to service-centric planning.
To build business success and strengthen technological capabilities, Huawei believes that the target network of 2025 must have five characteristics: Gigabit Anywhere, Ultra-Automation, Intelligent Multi-Cloud Connection, Differentiated Experience, and Environment Harmony. These five key characteristics are abbreviated as "GUIDE".
The "GUIDE" model in detail
G: Gigabit Anywhere is essential for target networks to provide digital services to users. Gigabit networks are the foundation upon which a company, a city, and even a country's economy can grow. Gigabit connectivity is the most fundamental requirement for manufacturing applications like VR and AR, industrial camera, and production data collection.
U: Ultra-Automation is essential for target networks with intelligent O&M. With 5G seeing massive deployment and more operators launching industry digitalisation services, the scale and complexity of networks are increasing exponentially. Operators must enable ultra-automation by adopting big data and intelligent technologies. Operator networks can create greater value by intelligently automating complex tasks and simplifying human work.
I: Intelligent Multi-Cloud Connection creates a target network platform for service aggregation. After years of development, cloud technology has evolved from traditional IT to cloud computing, and then to cloud native. The digital transformation of enterprises has driven IT systems to become cloud-based, and multi-cloud connection is now essential to meet requirements for cost control, service reliability, and multi-cloud disaster recovery. These changes have driven new requirements for intelligent multi-cloud connection and brought new opportunities for operators to develop cloud-network convergence services.
D: Differentiated Experience is the key to allowing target networks to facilitate business success. The essence of user experience is business, and the essence of business is monetisation. More and more practices have proven that differentiated experience can create a premium. For example, in the enterprise and government market, stock exchanges are willing to pay 10 times the rent for a 1-ms lower network latency. For operators, differentiated experience means providing both best-effort experience and deterministic experience. A good experience can satisfy users' personal needs and differentiated experience is where operators gain new value.
E: Environment Harmony is the target network's commitment to social responsibilities, and is part of the sustainable development strategy of leading operators worldwide. Operators must continuously innovate products and technologies to save energy, reduce emissions, and develop a circular economy. They should also drive industry players to cooperate in order to build a low-carbon society by enabling green connections, services, O&M, and applications through innovations in equipment, power, network deployment, data centres, operations, and applications.
The latest whitepaper explains Huawei's approach to target networks, including the driver of NetX2025, the "GUIDE" model that characterises NetX2025, recommendations on developing NetX2025, and important innovative technologies for 2025. According to An Jian, the "GUIDE" model effectively summarises the future target network, and hopes to work with Middle East operators to plan the future target network through research and innovation, and achieve business success by 2025.