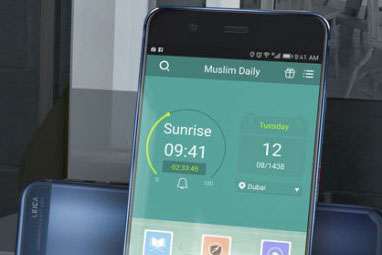 Huawei has launched its Muslim Daily mobile app, which offers a set of programs designed to help Muslim track their prayers and daily rituals in the month of Ramadan.
Muslim Daily is designed especially for fasting users, with programs and features that help them perform their daily rituals on time including prayers, reciting the Holy Quran, identifying the Qiblah direction and finding the nearest mosques to the user's location.
The free Android application offers a series of Ramadan programs on a single screen, including reciting the Quran in text form, listening to 15 of the most famous Quran reciters, and the ability to change reciters at any time and complete the verses without repeating the Surah from the beginning.
The app also offers a program to locate the direction of the Qiblah directly through GPS navigation. Muslim Daily displays prayer times for a range of cities around the world, and alerts the user at prayer times even if the user's device is switched off.
The application can also search for the user's nearest mosques and display them by name, address and distance. When the user clicks on the name of a mosque from the list, Muslim Daily display Google Maps to show the user how to reach that mosque either on foot or by car.
The app displays the Hijri and Gregorian calendar on the same page, with the start and end dates of each calendar month. It also displays various religious events and occasions, such as Israa and Miraj, Prophet's birthday, the beginning of Ramadan, Arafah, Eid al-Fitr, Eid al-Adha and the Hijri New Year among others.