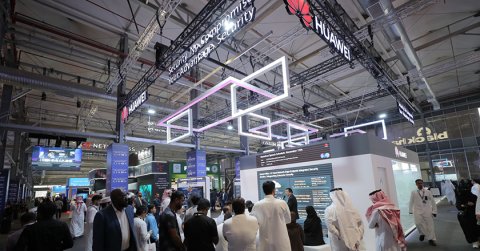 Huawei unveiled a series of cutting-edge cybersecurity innovations at Black Hat Summit MEA 2023.
Under the theme "Security, No Compromise, Your Advantage Security," Huawei showcased the industry's first Network-Storage Multilayer Ransomware Protection (MRP) Solution, Huawei Hi-Sec 3.0 network security solution, and an AI-based cloud-network collaboration security solution. These innovations aim to provide global users with a robust and secure ICT infrastructure.
As the world's leading cybersecurity summit, Black Hat gathers the most advanced security innovations annually. The research results presented at Black Hat, characterized by strong technical strength, authority, and objectivity, also guide the future development direction of cybersecurity.
David Tao, Managing Director Huawei KSA Government & Enterprise said, "The advent of an intelligent world makes cybersecurity more important and complex than ever. The MEA region and the world need a robust cybersecurity strategy for development and prosperity. At Huawei, cybersecurity and privacy protection take top priority, always preceding business interests".
Ransomware is growing 3.5 times yearly, causing significant economic losses to governments and enterprises. Huawei's Network-Storage Collaborated MRP Technology combines "network" and "storage" to safeguard the entire ransomware process, providing a dual-layered defence to enterprise data assets. The detection rate of ransomware viruses exceeds 90%.
At the event, Huawei presented the End-to-End Cybersecurity Assurance System. From a network infrastructure perspective, the HiSec 3.0 network security solution is dedicated to building a Cloud-Network-Edge-Endpoint Integrated Security System. Furthermore, the SASE Multi-Branch solution provides efficient and secure access to SaaS, public cloud, Internet, corporate headquarters, and other services for government, finance, manufacturing, and other industries. In terms of storage, focusing on the full life cycle of data, Huawei's solution realises full disaster recovery for hot data, hot backup for warm data, warm archiving for cold data, and intelligent convergence in all scenarios to ensure business continuity and data integrity.
As one of the world's largest cloud service providers, with the slogan "safeguarding digital transformation with systematic construction and constant operations," Huawei Cloud has built a full-stack security service system featuring "one security centre and seven layers of defence." This ensures service continuity, data security, and continuous compliance, making Huawei Cloud one of the most secure clouds globally.
To date, Huawei Cloud has introduced more than 20 proprietary cloud security services and over 400 security services to its ecosystem, making it easier for cybersecurity professionals to build full-stack security on the cloud, including workload security, application security, data asset security, security posture management, and regulation-compliant migration. Huawei has also obtained over 120 security, privacy, and compliance certifications worldwide Huawei Cloud has established security operation centres in more than 84 availability zones (AZ) in 30 regions globally to protect the cloud platform.
SecMaster, the core service of Huawei Cloud security operation, provides unified management of on- and off-cloud assets, intelligent security analysis, and integrated security event handling capabilities. It uses processes and tools to enhance personnel experience and automate event handling. Seventy percent of threats are closed within 1 minute, and 99% are closed within 5 minutes. By providing security operation capabilities as a service, Huawei Cloud helps customers achieve a high starting point, high efficiency, and spiral iteration of security operation in the cloud era, making cloud services more secure and secure operation easier. With the vision of "Everything-As-A-Service", Huawei Cloud serves as a cloud foundation and industry enabler to provide users with healthier and more secure cloud services.
Huawei recognises cybersecurity risk is a shared responsibility, and threats are complex, diverse, and evolving. No single organisation has what it takes to tackle them all. Huawei will continue to collaborate with governments, enterprises, research organisations, and others to minimise cybersecurity threats and work together to build a trustworthy digital environment to meet today's and tomorrow's challenges.
It is worth noting that Huawei has conducted joint innovation with the industry for more than 20 years and has continued to make long-term investments in cybersecurity management practices and technologies. Currently, Huawei has more than 3,000 cybersecurity research and development personnel, and 5% of its R&D expenditure is dedicated to improving the security of its products.