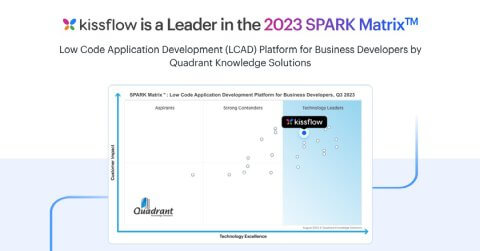 Kissflow is named the 2023 technology leader in the Quadrant Knowledge Solutions' SPARK Matrix™ Low Code Application Development (LCAD) Platform for the Business Developer.
Based on a 15-criteria evaluation, Kissflow is recognised as one of the top 5 technology leaders in the LCAD segment for Business Developers and the only business user-first (aka Citizen Development friendly) platform – structured to enable business users to understand, navigate, and work on the platform without having to have much cognitive load. Download the report, here.
The Quadrant Knowledge Solutions' SPARK Matrix includes a detailed analysis of global market dynamics, major trends, vendor landscape, and competitive positioning. The study provides competitive analysis and ranking of the leading technology vendors through its SPARK Matrix. It also offers strategic information for users to evaluate different provider capabilities, competitive differentiation, and market position.
According to Abhishek Anant Garg, Analyst at Quadrant Knowledge Solutions, "Kissflow allows citizen or business developers to effortlessly build and deploy applications using a simple and easy-to-use graphical user interface. The interface enables developers to utilise app builder and drag-and-drop capabilities to design and create applications by simply selecting the required application modules and dropping them into the interface. The company's workflow automation capabilities allow developers to speed up the development process by automating repetitive tasks and allow them to focus on the business logic. Kissflow's Low-code platform is highly adaptable and allows users to create customised solutions that precisely fit their unique requirements. This along with the platform's scalability, allows organisations to efficiently evolve and expand their digital ecosystems as their needs change and grow. Kissflow places a strong emphasis on governance and compliance, ensuring that as applications multiply, they are compliant to all required standards and regulations and remain secure", adds Abhishek.
"We are thrilled to be recognised as the 2023 technology leader in the Low Code Application Development Platform for Business Developers by Quadrant Knowledge Solutions. Kissflow's inception was rooted in the vision of democratising technology, empowering business users to become citizen developers. This recognition stands as a profound testament to our commitment to this transformative journey and the trust bestowed upon us by thousands of customers who have harnessed the potential of low-code development with Kissflow", said Suresh Sambandam, CEO, Kissflow.
Quadrant Knowledge Solutions defines an LCAD platform as "Low-code application development (LCAD) platforms empower developers to design, develop, test, deploy and maintain applications without the need of any complex coding. It provides an intuitive graphical user interface to the developer for visualising the flow of application development. LCAD platforms greatly increase the pace of application development along with making the development process convenient, efficient, and secure. The platform provides drag-and-drop feature through which users create applications by dropping pre-built function modules within the development interface. It may provide added functionality of advanced LLM model for AI assistance in the form of code snippets and next best step recommendations".
Download the full report here.