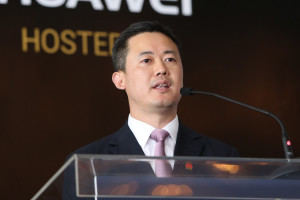 Steady growth in the world's population and increasing urbanisation has resulted in more people living in cities than in rural areas, for the first time in history. This, combined with the fact that cities are the greatest contributors to global GDP, is making governments rethink their approach to managing city resources and citizens.
Huawei, during its participation at the upcoming GITEX Technology Week, will be showcasing its range of 'new ICT' solutions that are aimed at "shaping the future in a connected world."
Charles Yang, President, Huawei Middle East, said, "The need of the hour is for infrastructure networks in the Middle East to connect cities – creating information-sharing platforms that carry smart applications for happier and safer communities. At GITEX 2016, Huawei brings the latest technologies, innovations and best practices that redefine the way organisations operate in a Smart City environment."
According to the company, it will highlight a variety of its offerings during the event including various solutions it has developed together with its technology partners, that are designed specifically for government, education, hospitality, real estate, banking and transportation sectors in the Middle East.
Huawei Innovation Day will also take centre stage during the GITEX Conference, on Day 1 of GITEX, from 16:00 to 18:30 at Sheikh Maktoum Hall. This feature will see top Huawei business leaders, product experts, partners and customers presenting keynote sessions and a panel discussion focused on 'shaping the future in times of innovation'. Huawei Innovation Day will also see the launch of a new Smart City Readiness Index that is being developed by Navigant, commissioned by Huawei.
Huawei plays a key role in the GSMA Mobile 360 Series – Middle East, which will be held on 17th October on the sidelines of GITEX. Experts from the vendor will also be sharing insights at the Vertical Conferences at the show, delivering an interactive session on 'Digital Roads to Smarter Cities' as well as exciting panel discussions at the Tech Talk series titled 'Public Cloud or Private Cloud- The Debate is on!' and 'Making Secure Networks – Role of User Behaviour, Mobility and Ever Changing Threats' on 17th October and 18th October.