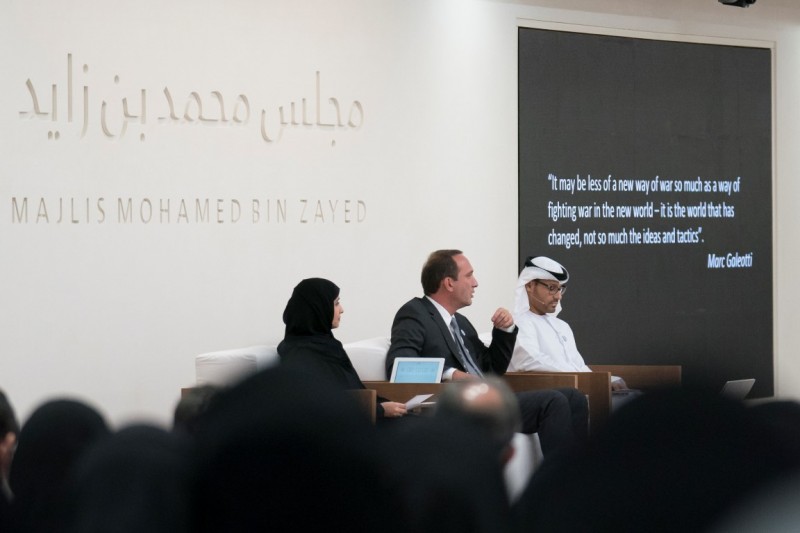 The emergence of hybrid warfare as a new form of conflict has fundamentally altered the security landscape, posing serious threats to security institutions, said experts during the Majlis Mohamed bin Zayed series.
The event, titled, 'The Changing Character of Warfare', the event was attended by Sheikh Hamdan bin Zayed Al Nahyan, Ruler's Representative in Al Dhafra Region and Chairman of the Emirates Red Crescent, ERC, WAM reported.
The panel was also attended by Grigol Mgaloblishvili, former Georgian Prime Minister and professor at the National Defence College, and cybersecurity expert Dr. Mohamed Al-Kuwaiti.
The emergence of hybrid warfare as a new form of conflict has fundamentally altered the security landscape, posing serious threats to security institutions.
The discussions looked into the changing character of modern-day conflict needs to be adequately understood before it can be countered effectively.
According to the panel, hybrid conflicts focus on non-military means to subvert and destroy states without resorting to open warfare, at least at first.
Thanks to rapid advances in technology, information warfare, cyber-attacks and cyber-terrorism now rank among the most harmful instruments of manipulation in hybrid warfare.
Mgaloblishvili provided an international perspective on the changing nature of modern warfare and the challenges it poses to national security. "Increasingly, non-military means are playing an essential role in achieving the strategic objective of hybrid warfare, which is to cripple a state through cyber-terrorism as well as political and economic subversion before it even realises conflict is underway."
The blurring of lines between the different modes of warfare and weaponisation of non-military means undermine the foundation of the state is one of the most significant security challenges today, experts said.
"With cyberspace becoming the next battlefield, cyber-security is key to defending a country's interests and its critical digital infrastructure," Dr. Al-Kuwaiti said, adding that governments are increasingly moving towards smart cities and services, better awareness of cyber-security, information security and the engagement of human resources are central to maintaining and enhancing overall social and economic security.
He then noted that ensuring the safety of a country's digital infrastructure is a matter of national security and citizens need to be trained on how to safeguard it better.
"Adults and children alike use electronic gadgets extensively nowadays, and it is essential to increase their awareness about cybercrimes. The easy access children have to all things digital exposes them to the risk of being cyber-bullied and blackmailed. There is also the danger of criminals and extremists trying to reach out 'virtually' to innocent citizens, seeking to radicalise them, hack into their electronic devices, spread viruses and engage in fraud and blackmail."
Dr. Al-Kuwaiti added it was essential to develop cybersecurity standards for technologies such as the Internet of Things, cloud computing and artificial intelligence. He also outlined some of the industry's global challenges, including the evolving techniques used in data theft, psychological operations, piracy and cyber-attacks.
The panel concluded with the experts highlighted how cybersecurity plays a critical role in ensuring the safety of a nation's population in our increasingly digitalised world and how adopting a proactive approach in addressing emerging risks and strengthening cybersecurity awareness.