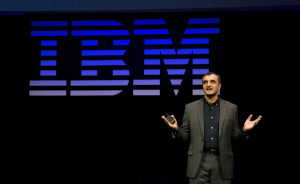 At the PartnerWorld Leadership Conference 2015, being held in Las Vegas, IBM has announced 'One Channel Team', designed to bring simplicity to the channel by helping business partners build skills, drive demand and increase growth as they transform for the future.
"As IBM continues its move to higher value solutions in strategic markets, we are helping business partners solve business challenges for clients by providing them deeper skills, collaborative tools and new growth opportunities," said Marc Dupaquier, General Manager, IBM Global Business Partners. "With the One Channel Team, we've built a strong, dynamic partner ecosystem that is designed to make it easier for Business Partners to build more profitable lines of business. Business Partners who have already transformed with us are seeing the results."
The One Channel Team aligns channel operations from across the company to provide broader, more competitive partner experience, as current and future IBM business partners capitalise on new market trends based on cloud, analytics, mobile, social and security.
The move also increases the vendor's focus on recruitment of new business partners, developers and Independent Software Vendors (ISVs) delivering solutions aligned to the company's strategic initiatives.
"The channel continues to evolve as more partners are focusing on business solutions rather than product transactions, selling to the line of business more often than in the past and developing more of their own intellectual property," said Darren Bibby, Program Vice President of Channels and Alliances Research, IDC. "The greater cloud market alone is expected to reach USD 118 billion this year, representing a huge opportunity for partners who embrace it. In fact, IDC estimates that business partners expect to almost double their cloud-oriented business in the next two years."
Partners can transform and capitalise on new market opportunities based on the IBM Cloud Marketplace, SoftLayer, Bluemix and the ability to build scalable applications with the Watson Ecosystem and customise solutions with IBM Systems.
To help partners grow and succeed, IBM is driving transformation by deepening skills with enhanced education initiatives such as 'PartnerWorld University' platform and 'Know Your IBM' learning portal. The company is also delivering marketing and developer tools to help partners drive demand and innovation through platforms such as IBM Digital Content Marketing, while also broadening partner ecosystems to drive growth. Also, the vendor said partners can look forward to new and increased incentives, making it easier to grow profitably with the company.