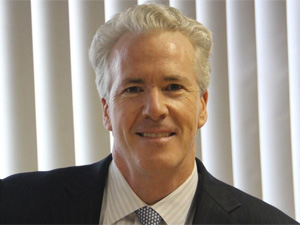 Mark Hennessy, General Manager, Global Business Partners, kicked off IBM's Leadership Conference in Las Vegas today by stating that IBM will be the leader in smarter planet solutions.
Hennessy spoke in high spirits as clients and partners from all over the globe poured into Caesars Palace to hear the GM discuss the latest technology trends which he claimed are reinventing the way businesses work.
"This year's conference is a little different – it's about leadership in smarter cities. This conference is about what these new technologies mean to us and how we can transform our business and deliver exceptional results to our clients to help transform their businesses," he said.
"When I speak to you partners every day, you speak about delivering greater results and value to your clients. The conference this year is about how we do that."
Hennessy demonstrated three key areas where he believes IBM will be helping to grow client's businesses and put them at the forefront of new business computing, as well as discussing strategies to meet new levels of expertise expected by the industry.
"That's what the next three days are about, achieving value for our clients."
Hennessy then introduced Bruno Di Leo, Senior Vice President, Sales and Distribution at IBM, who presented the company's vision on how IBM hopes to become the most essential company through investments in innovation, expertise, assets and delivering on a customer-centric culture.
"We want to assure you that we are, and will continue to be committed to you. As business leaders you have a choice, and you choose to partner with us, we thank you" he began.
Di Leo discussed three key areas for IBM; its vision on the information technology market, its shared agenda with its partners, and its enterprise goals and targets for the market place.
"The previous years have proved to us that the market goes through a cycle of innovation and change. You've proved that with your leadership you control this and grow with this and gain market share. This is the reason why IBM has been continuously transforming itself to pursue higher partner spaces. I want to assert with you all today that we will continue to pursue these higher partner spaces," he said.
"First and foremost – IBM will lead in the new era of computing. This year is all about smarter cities, integrated systems, software defined environments. We profoundly believe this is all about new clients and new areas, exploring new territories and growing with you."
Di Leo claimed that new smarter solutions are helping to assist companies and clients in positions not previously thought of in information technology, and that these technologies will continue to grow in new areas, integrating communities and bringing them closer together to achieve bigger goals.
In the wake of this, he introduced Donald Moore, Chief Culinary Officer of The Cheesecake Factory, to discuss its success story with IBM's new Digital Analytics solutions. By taking advantage of IBM's big data analytics tools, the restaurant giant, which has recently expanded its reach to Dubai with restaurants in Dubai Mall and Mall of the Emirates, has managed to significantly improve its services and understanding of its 80 million strong customer base.
"We're unique in the fact that we're a small group of decision makers working with 80 million customers worldwide, without the partnership with IBM we wouldn't be able to deliver the great service we do," said Moore.
Following this, Hennessy retook to the stage and continued on the theme of food but with a slightly different angle. He announced that IBM had partnered with a local school in the area which runs projects to donate food packages to needy children. The initiative, Three Square, was a great way for IBM to make a difference through its large partner and customer base, said Hennessy.
In light of that, Hennessy invited all conference attendees to help by packing food bags for the children in a dedicated area of the conference, this move was welcomed with applause.
CPI Technology Assistant Editor, Joe Lipscombe, is reporting live from IBM's Leadership Conference 2013 in Las Vegas. Follow @Computernewsme for live updates.