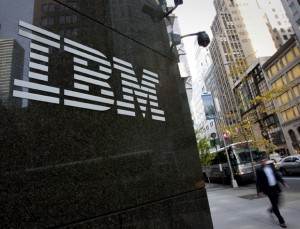 IBM reported on Tuesday that it managed to increase its net income by 5% in 2012, despite a sluggish world economy and a 2% decline in revenue
IBM reported revenue of $104.5 billion for 2012, which was down from $106.9 billion in 2011. Net income was $16.6 billion, or $14.37 per share, up from $15.9 billion a year earlier. The earnings-per-share figure is up 10% from 2011, marking the tenth consecutive year that IBM has increased its full-year earnings by 10% or more.
Ginni Rometty, Chairman, President and CEO, IBM, attributed the financial buoyancy to various growth initiatives, including efforts in analytics, cloud computing and Smarter Planet systems, along with a strong emphasis on growing markets.
Full-year revenue from "cloud operations" increased by 80%, IBM said, while Smarter Planet system revenue increased by 25%. And business in growth markets – such as India and China – increased by 4% year over year. IBM did not give precise figures in its press release for the cloud and Smarter Planet sales.
Revenue for the Americas totalled $44.6 billion for the year, a decrease of 1% compared to 2011. Revenue from Europe, the Middle East and Africa shrank 6% to $31.8 billion, while Asia-Pacific revenue increased 3% to $25.9 billion.
By sector, IBM's services and hardware businesses shrank while software sales grew, the report said.
Services brought in $58.8 billion in 2012, a decrease of 2% from a year earlier. The Global Technology Services division generated $40.2 billion in revenue, a decrease of 2%, while Global Business Services tallied $18.6 billion for the year, down 4%.
IBM generated $25.4 billion in software revenue for 2012, an increase of 2%, while the company's hardware arm, Systems and Technology, generated $17.7 billion, a decrease of 7%. The financing arm of IBM generated revenue of $2 billion, a decrease of 4% from a year earlier.
Looking at the fourth quarter, revenue was $29.3 billion, down 1% from a year earlier. Net income was $5.8 billion, up 6% from the fourth quarter of 2011. Earnings per share climbed 11% to $5.13.
In a conference call with analysts, Mark Loughridge, CFO, IBM, made the case that hardware sales have been more robust than they initially appear on the balance sheet. IBM sold its Retail Store Solutions (RSS) division to Toshiba, reducing hardware sales compared to last year. So while Systems and Technology revenue was down slightly in the last quarter, sales would have increased by 4% if RSS was factored out.
One bright spot for hardware has been a burst in sales for IBM's new System Z mainframes, up 56% in the first full quarter since the launch of the EC12 mainframe in August. The company has also sold 2,300 PureSystems in more than 70 countries since its launch last April.
Revenue from IBM Power servers, on the other hand, decreased 19% compared to the same quarter a year ago.
Software also had some high points despite the modest increase in software revenue overall, Loughridge said. Revenue from IBM WebSphere grew 11% in the last quarter, and the Rational line of modelling products grew by 12% from the same period a year earlier.