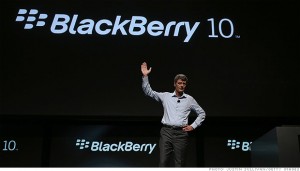 Research In Motion's (RIM) stock prices soared this week, following speculation, rumours and high hopes about the upcoming BlackBerry 10 launch next week.
RIM's stock price has been languishing in the $11-$12 range on the Nasdaq exchange for weeks, after sinking to a low of $6.18 last September. That changed on January 18, when it jumped to the $15-$18 range after Jefferies Group analyst Peter Misek upgraded his stock recommendation to "buy" from "hold," and his target price for the stock to nearly $20 from $13. This morning, the stock jumped quickly from $9.32 to a peak of $17.52, before beginning to dip.
Jefferies' shift, according to several published reports, was based on the firm's assessment that RIM will enable a range of BlackBerry features and services, including email, on other mobile platforms, specifically iOS and Android.
According to one website, Misek wrote, "This change we believe is unknown or not well understood but is important. In the future, we think RIM will add bring-your-own-device sandboxing and BlackBerry Messenger (BBM) on Android and iOS."
The stock is likely to get another boost today as investors are apparently set to overreact to comments by RIM CEO Thorsten Heins in an interview published on Monday in the German newspaper Die Welt. Yesterday, Canada-based RIM's stock price on the Toronto Stock Exchange jumped 15% after Heins was reported to have said that RIM's ongoing "strategic review" potentially could result in licensing RIM's BlackBerry 10 operating system and other software or selling its handset business.
According to Reuters, reporting on the Die Welt interview, Heins said, "The main thing for now is to successfully introduce Blackberry 10. Then we'll see."
But Heins has been saying the same thing since he took the helm of RIM a year ago and launched the internal strategic review of the company's options. And what he is saying is no more than, "We're not ruling anything out."
When Reuters asked a RIM spokesman to comment on the Die Welt interview, his replied, "We do not have anything new to report on our strategic review at this time."
Yet, as VentureBeat's Ricardo Bilton notes, the move to spin off hardware sales and license the OS "wouldn't make much sense." RIM's ability to mesh its own software and hardware, as Apple does, would be lost, and "there's not a single smartphone maker for which BlackBerry 10 would be an attractive option."
Next week, at multiple locations, RIM will unveil what is expected to be at least two new smartphones, the first to run the BlackBerry 10 operating system. The new OS, which is a complete break with the firmware that's powered all earlier BlackBerry phones, features a radically new UI design built atop the widely used QNX real-time operating system kernel, which RIM acquired in 2010. QNX is the basis for the OS used in RIM's PlayBook tablet, and that software will be upgraded to the production version of BlackBerry 10.
This week, the German website Telekom Presse posted a comparison of what it claims is a BlackBerry Z10 smartphone, running BlackBerry 10, with the iPhone 5. The purported BlackBerry has a slightly larger screen at 4.2 inches, a correspondingly wider and longer body and is somewhat thicker than the current iPhone. Speculation about other features includes a 1.5GHz dual-core processor, 1280 x 768 resolution, LTE, 2GB of RAM, 16GB or 32GB storage, an 8-megapixel rear camera, a 2-megapixel front camera, a 1800mAh battery, NFC, Bluetooth 4.0, and a microSD port.