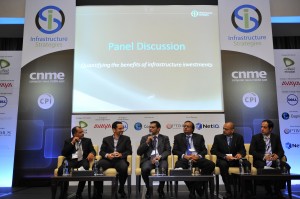 Major players from the IT world gathered in Dubai Marina this morning for the 2012 Infrastructure Strategies event, hosted by Computer News Middle East.
A list of high profile speakers discussed with an energetic crowd, in detail, the latest IT trends affecting and influencing infrastructure management.
The traditional data centre, virtualisation, disaster recovery, and cloud were all hot topics, as they have been throughout the last year. Speakers from CNME's partners took to the stage to offer insight and raise questions concerning the subjects, before taking part in a panel discussion on quantifying the benefits of infrastructure investment.
The keynote was presented by Deepak Satya, Head of Transformation Services, IT IS Practice, Cognizant, who travelled in from India to be present. Satya spoke about the importance of flexibility in an infrastructure service model, saying that it isn't an easy task, but everybody is responsible for injecting a level of flexibility into infrastructure.
"IT is such a rapidly changing environment that the services must be flexible and open to change to adapt to this model. The technology that worked well for us previously will not take us to the future. And remember, the future is today, so there needs to be a swift change in flexibility," he said.
Next to speak was Dell's Enterprise Product Manager, Basil Ayass. He discussed the upcoming trends in the building of future data centres. He made a clear point that future users aren't receiving the technology they demand, and that businesses are outdated, which is affecting performance and productivity.
"The millennial generation users expect choice of device, access anywhere, unlimited email and fast Internet. They get it at home but they don't get it at work," he said.
Savio Tovar Dias, Head of Technical Operations, Avaya, then delivered his presentation on building an 'always-on', flexible infrastructure for business. Dias argued that the future of strategy was influenced by a few major trends; mobility, BYOD, cloud and video (collaboration/surveillance/connectivity).
"The old network needs to evolve to support the way people will collaborate," he said.
Following the break, the topic shifted towards disaster recovery (DR), with which Ahmad Amayri, Support Consultant at Novell, and Sebastian Samuel, IT Group Manager at AW Rostamani, discussed the consequences on downtime and gave examples of real DR plan deployments.
Amayri pointed out that the total economic damage from disaster in 2009 was $41.3BN, whilst Samuel stated that most failures and disruptions are power, hardware, network or software related, but disaster recovery is still vital.
"The key questions to ask in a business impact analysis are how much data can I afford to lose and what's the total cost of downtime? Companies should decide the right approach for disaster recovery – IT should not be an overdose to the business," he said.
The presentations concluded with Etisalat Product Marketing and Management, Data Centre Hosting and Cloud IaaS, Jitendra Kapoor, who put forward many points surrounding the move to a virtualised environment.
"There's a radical shift in computing patterns today to renting IT resources – in other words, cloud computing," he said.
"Today's IT manager now needs more than just cost benefits – it's also about manageability, agility and productivity."
Once all speakers had finished with their presentations, they returned to the stage to discuss reasons behind the lack of cloud adoption in the region and IT infrastructure predictions for the year ahead.
"There are too many options to pick the major trends of 2013 – virtualisation and cloud are up there but also security is critical, especially in regards to these topics we've discussed today," said Amayri.