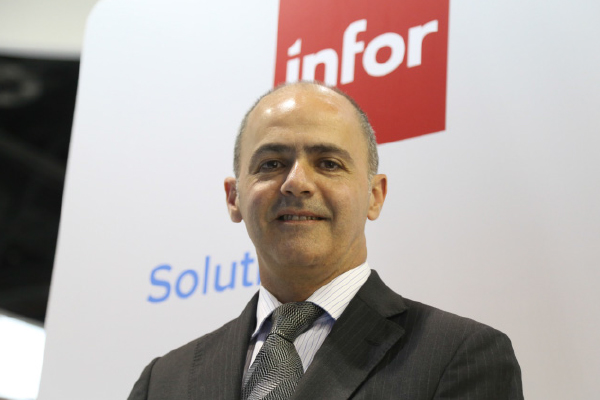 GITEX is without a doubt the largest IT event in the Middle East and is a great chance for Infor to showcase its latest products, says Monzer Tohme, Regional Manager, Middle East, Infor. It's an opportunity that the company simply cannot pass up, he says, to meet with existing and potential customers and potential resellers in the Middle East.
Tohme highlighted the firm's recently launched Infor Cloud Suite. "With this, we are targeting specific industries, public sector, healthcare, hospitality, financial services and manufacturing. Next week we are officially launching our Infor direct operations in Riyadh, opening our Saudi office.' Saudi has been a key market for Infor over the last few years. The company have a lot of customers in KSA, being present there makes a big difference in terms of approaching the market and growing our business there.
"We see as a priority is the transition from typical on-premise scenario to cloud or SaaS options," says Tohme, "for us cloud is key. We look at it as a high potential for coming two years, again we see it growing gradually, as customers in the region are looking to transition non-critical parts of business to the cloud." Typically marketing, customer relations or HR, are the first to transition. Once they're satisfied around an end-to-end solution, they become more confident in putting other parts of their business onto the cloud. This will take time over next 18 months predicts Tohme. "Mobility will play big part in that space. We offer all our portfolio on mobile devices," he says.
Other ERP vendors, says Tohme, carry legacy systems from 20-30 years ago. They moved some apps to be Internet or cloud ready. "We put lot of investment into making our apps have Internet standards. Our apps are available on premise, private or hybrid cloud," he says.
The company has clearly worked a great deal on the user experience. As such, there are some significant changes coming up with Infor. "We've invested in a company within Infor consisting of graphic designers and artists so they can make our products easier to use for the average customer. Social media apps are user friendly, and we've embedded that into our applications," Tohme says. "On Facebook, users can follow a person. Within our business application, you can follow, a person, transaction, machine or asset. This gives automatic alerts around what follow, if machine is broken can fix it."