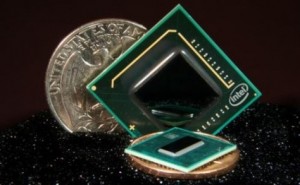 Intel yesterday started shipping new low-power Atom chips built on the platform code-named Cedar Trail, with numerous improvements to boost graphics and application performance over their predecessor, the company said.
The two new Atom chips are targeted at entry-level desktops and all-in-one PCs for Internet surfing and basic multimedia and productivity applications, an Intel spokeswoman said. The new dual-core Atom chips run at clock speeds of up to 2.13GHz and are able play Blu-ray movies, she added.
The Cedar Trail chips succeed the previous generation of Atom processors built on the platform code-named Pine Trail, which was criticised for poor video performance. Netbooks with the new Atom chips will ship in the fourth quarter, the spokeswoman said. Netbooks based on Cedar Trail chips were on display at this month's Intel Developer Forum.
Netbook shipments have been hurt by growth in tablets, but Intel is keeping the Atom chip for low-cost PCs alive in an effort to offer low-cost computing options, according to representatives. Intel is also promoting ultrabooks as a new class of thin and light laptops with tablet-like features. While the netbooks and desktops are for basic computing, the feature-rich ultrabooks are based on Intel's much faster Core processors and currently cost around US$1,000, with prices expected to drop.
According to Intel, the Atom D2700 processor runs at a clock speed of 2.13GHz, is priced at $52 and can run two threads per core while the D2500 processor operates at 1.86GHz, is priced at $42 and can run one thread per core. The chips have 1MB of cache, and support the HDMI (high-definition multimedia interface) and DisplayPort interfaces. The chips will support up to 4GB of memory, Intel representatives added.
The new chips are made using the 32-nanometer process, while the predecessors were made using the 45-nm process, they concluded.