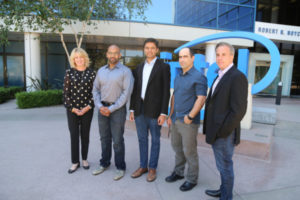 Intel is buying deep-learning start-up Nervana Systems, in a deal that could help it make up for lost ground in the increasingly hot area of artificial intelligence.
Founded in 2014, California-based Nervana offers a hosted platform for deep learning that's optimised "from algorithms down to silicon" to solve machine-learning problems, the start-up says.
Businesses can use its Nervana cloud service to build and deploy applications that make use of deep learning, a branch of AI used for tasks like image recognition and uncovering patterns in large amounts of data.
"We will apply Nervana's software expertise to further optimise the Intel Math Kernel Library and its integration into industry standard frameworks," Diane Bryant, head of Intel's Data Centre Group, said in a blog post. Nervana's expertise "will advance Intel's AI portfolio and enhance the deep-learning performance and TCO of our Intel Xeon and Intel Xeon Phi processors."
Though Intel also acquired AI firm Saffron late last year, the Nervana acquisition "clearly defines the start of Intel's AI portfolio," said Paul Teich, principal analyst, Tirias Research.
"Intel has been chasing high-performance computing very effectively, but their hardware-design teams missed the convolutional neural network transition a few years ago," Teich said. CNNs are what's fueling the current surge in artificial intelligence, deep learning and machine learning.
He added, "Intel has very public plans to couple field programmable gate array (FPGA) chips next to processor chips in an upcoming Xeon multi-chip package."
But FPGAs "occupy an awkward performance middle ground" between software running Xeon or Knights Landing cores and specially designed cores such as those designed by Nervana and KnuPath. FPGAs are a bandage to fill the neural-network gap in the short term, but they are not a cure," said Teich.
As part of Intel, Nervana will continue to operate out of its San Diego headquarters, Naveen Rao, cofounder and CEO, said in a blog post.
The start-up's 48-person team will join Intel's Data Centre Group after the deal's close, which is expected "very soon," Intel said.
Financial terms of the deal were not disclosed.
Originally published on IDG News Service. Reprinted with permission from IDG.net. Story copyright 2018 International Data Group. All rights reserved.