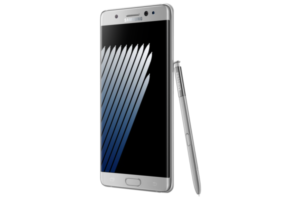 The latest in the Note series made its debut in the Middle East region last night, at the Four Seasons Resort, Dubai.
This glitzy affair emphasised the 'marked improvements' from the previous model, Note5 – what happened to Note6 is anyone's guess. Branded by Samsung as its "most intelligent smartphone yet," the Galaxy Note7 features a water-resistant body and S Pen, both IP68 certified, which have tested in submersion up to 1.5 metres for up to 30 minutes. It also features 'top-of-the-line' security, which combines Samsung Knox with biometric authentication in the form of an iris scanner, as well as HDR video streaming capabilities.
"In 2011, we launched and pioneered an all-new category of large screen smartphones together with the unique S-Pen. Over the years, each edition of the Note series has reconfirmed Samsung's vision and commitment for development by improving customer experience in a simple, productive and distinctive way," said Tarek Sabbagh, Head of IT and Mobile Division, Samsung Gulf Electronics.
He added, "With the Galaxy Note7, we have reinvented the large-screen smartphone segment with a unique combination of productivity tools, entertainment services and security features. In addition, it powers a robust ecosystem that strikes a balance between work and play, enabling people to achieve more than what they thought possible on a smartphone; not just faster, but wherever and whenever."
With the improved S Pen, users can "bring ideas to life, the moment inspiration strikes" without even unlocking the screen, by using the 'screen off memo.' The tip of the S-Pen has been reduced by nearly 50 percent and now totals 0.7mm in diameter, which provides "a real pen-like experience." Due to its water resistant certification, the S-Pen also allows users to jot down ideas when the screen is wet – just in case you had that all important brain-wave whilst in the shower.
The new Air Command functions, including Magnify and Translate, enable users to zoom in on the screen or convert languages with a simple hover of the S-Pen using Google Translate.
Coupled with Samsung Knox, the Note7 provides "heightened security and privacy" for its users, through its fingerprint scanner and iris scanning technology. The secure folder "instils a new level of user confidence" through its added layer of authentication to keep private and personal information safe.
The curved, 5.7 inch QHD Super AMOLED screen "delivers a bold and immersive picture."  It is equipped with the advanced camera that was introduced on the Galaxy S7 and Galaxy S7 Edge.
In addition to 64GB of internal memory, the Note7 offers expandable storage and microSD support of up to 256GB. It is equipped with a 3,500mAh battery, and charges quickly using the new USB-C port or wireless charging.
The Note7 will be available in the region from August 19th, in Gold Platinum, Silver Titanium and Black Onyx, at a recommended retail price of AED 2999. A 128 microSD card will be supplied to compliment the 64GB of internal memory.