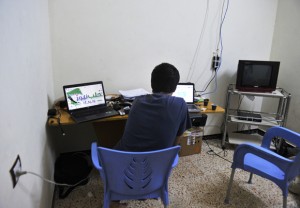 Syria suffered another Internet and mobile communications outage that lasted for about 20 hours. Service was restored earlier on Wednesday.
The Syrian government earlier today blamed the Internet blackout, which had gone into its second day, on a "malfunction in an optic cable," according to a report in the country's state-run Syrian Arab News Agency. The report also said engineers were working to repair it.
Shortly after 11 a.m. ET on Wednesday, the same news agency reported that Internet services in Syria, which is embroiled in civil war, were back up after repairs were made on the optic cable.
Renesys Corp., a global Internet monitoring company, confirmed that Internet service was back in Syria after a disruption that lasted nearly 20 hours.
Google's Transparency Report found that all of its products went dark in Syria on Tuesday. The report was inconclusive on the day, though. "Data after this point are still being finalised," it noted.
This week's Internet blackout closely mirrored an outage in the war-torn country late last November. In that outage, no Internet traffic – or any online communications – were available in Syria.
In November, the outage affected not only the Internet but cell telephony and some land lines in all of Syria's major cities.
Writing in a blog post today, James Cowie, chief technology officer at Renesys, said he's no longer surprised by communication outages in Syria.
"In this case, what strikes me is the depressing sameness of the sequence of Syrian Internet disconnections," Cowie wrote. "Just as in June 2011, July 2012, August 2012, and November 2012, the entire nation disappeared from the Internet in 30 seconds, as if a switch had been thrown."
The country's communications troubles follow a familiar, and troubling, pattern, he added.
"The outage exposes fundamental undetected weaknesses – lack of submarine or terrestrial cable diversity, lack of Internet provider diversity, underinvestment in alternative forms of transport, political control over Internet chokepoints," wrote Cowie. "If the Internet damage is painful enough, engineers (or revolutionaries) are forced to take creative steps to address those weaknesses."
Similar blackouts have also occurred in Middle Eastern countries including Egypt and Iran.