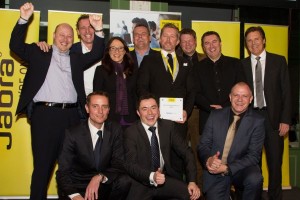 Westcon Group on Sunday announced that it had been named EMEA Distributor of the Year for the second year running by Jabra, thanks to its convergence business practice.
The distributor was given the award at Jabra's recent EMEA partner conference, which ran from January 30 to February 1 in Amsterdam. More than 200 partners attended, with a number being recognised for outstanding revenue growth and their alignment to Jabra's strategic objectives.
Westcon's sales grew dramatically year-over-year in the unified communications segment, a fact that no doubt contributed to Jabra giving the distributor the award. Westcon said that this unified communications growth was driven by changing working behaviours, such as the increase in remote and flexible working practices.
"Through close alignment and strong geographical coverage within the region, we have been able to build a robust partnership and business plan with the Westcon team," said Joel Hamon, EMEA President, Jabra.
"They have an expert understanding of the requirements today's enterprises face and demonstrate outstanding drive and commitment to growing our mutual business. Westcon also works closely with many of our alliance partners such as Microsoft and Avaya, and this has created a solid ecosystem which benefits our partners greatly."
David Grant, Senior Vice-President, Westcon Europe, said, "Westcon has developed a number of initiatives to help onboard partners and support the increasing demand for UC-optimised headsets into our growing UC partner base.
"We anticipate further growth in 2013," he added.