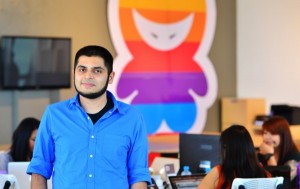 E-commerce firm JadoPado on Sunday announced year-on-year revenue growth of 208 percent for its financial year ending March 31, 2013.
This amounted to revenue of over Dh15.7 million, JadoPado said.
In terms of site visits, JadoPado did equally well during the last year. Following the firm's international expansion last month, monthly site visitors soared to a new high of 210,000 in March, marking a 273-percent increase in site visitors since 2012. The firm said that it totalled almost 1.2 million site visits over the course of the year.
However, JadoPado isn't willing to slow down any time soon, and still wishes to pursue aggressive expansion plans.
"We have ambitious targets for 2013, and are optimistic that the recovering global economy as well as the increasing consumer appetite for e-commerce will drive JadoPado's expansion to the next level," said Omar Kassim, Founder, JadoPado.
As part of this growth strategy, the company boosted its marketing spend by 428 percent during the last fiscal year. Kassim said he wanted to continue its marketing efforts to boost the firm's brand equity, putting particular emphasis on new markets, including the wider GCC region, as well as Bangladesh, India, Pakistan, the Philippines and Sri Lanka.
Warehouses and logistics are also expected to be key areas of investment for JadoPado this year, given the firm's ambitious international expansion and positive growth outlook.