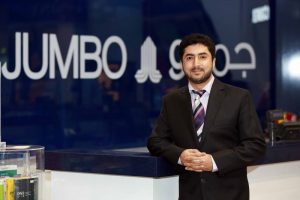 Jumbo Electronics, the UAE-based omni-channel electronics retailer, is expecting to achieve similar sales figures as last year during this edition of the Dubai Shopping Festival (DSF).
As the yearly festival begins on 26th December 2017, the company foresees a flurry of sales ahead of the VAT implementation in 2018 as consumers rush to make last minute purchases. During DSF, Jumbo Electronics is also offering customers half a kilogram of gold every week with its annual promotion #JumboGoldRush.
"With DSF starting during the festive season and a week before the VAT implementation, we are expecting a healthy demand for consumer electronics. We have already seen several shoppers holding back making any major purchases in anticipation of DSF," said Nadeem Khanzadah, head, Omni-channel Retail, Jumbo Group. "As one of the key sponsors of DSF since its inception, Jumbo Electronics is committed to provide our shoppers with the best promotion and bundle offers. The #JumboGoldRush promotion has been a brand synonymous with DSF and our loyal customers are always looking forward this time of the year with our exciting bundled offers."
During DSF, customers purchasing products worth AED500 and above at all Jumbo outlets will also get one raffle coupon to enter the lucky draw. In addition to standing a chance to win half a kilogram of gold every week, customers can also win 10 grams of gold every day.
Furthermore, Jumbo is also offering promotions with the latest gadgets that are bundled with key product categories, ranging from laptops, to digital cameras, smart phones, tablets, gaming devices and TVs.
The latest edition of DSF will commence on 26th December and will run until 27th January 2018.