Kodak Alaris has announced that its Information Management division will now operate under the name "Alaris, a Kodak Alaris business."
Partners and customers will see an updated website, logo, and social media presence. The parent company remains Kodak Alaris.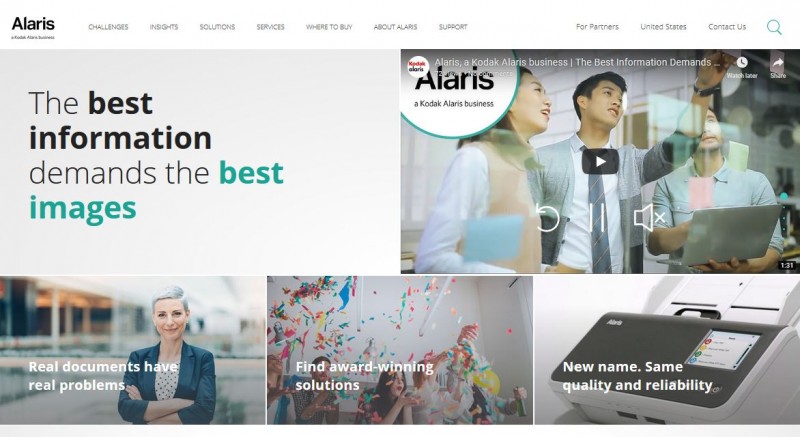 For decades, the global technology provider has delivered information capture solutions for businesses. "Our new name is not about reinvention. It's about reinterpretation," said Don Lofstrom, President and General Manager, Alaris. "The division's shift to Alaris puts greater emphasis on the image science expertise that helps clients make sense of data and information in their work. Rebranding will also help us target new markets, build new partnerships, and reach new customers."
Kodak Alaris has three other business units – AI Foundry; Kodak Moments; and Paper, Photo Chemicals and Film. Each will continue to use its current name.
Alaris Portfolio
Alaris-branded offerings were introduced last year with the launch of the Alaris IN2 Ecosystem. The new brand marked the shift towards integrated offerings that combined scanners, software and services. "The name is new but our Alaris line of scanners are built with the same unwavering commitment to productivity, reliability, and quality that our customers and partners have come to depend on for years," said Lofstrom. "The Kodak-branded products that customers know and rely on will continue to be available and are an important part of the Alaris IN2 Ecosystem. Consistent with our 'future proof' promise, all Alaris-branded software is backward compatible to work with our current scanners. The product portfolio includes both 'Kodak' and 'Alaris' branded scanners."
The new Alaris website is live at AlarisWorld.com. A refresh of Alaris social media accounts is also complete, including Twitter, LinkedIn, YouTube, Facebook and across multiple countries.
Alaris is being unveiled in a new advertising campaign, titled "Makes Sense". The campaign shares how image science makes sense of data in a world that still struggles with the shift from physical to digital documents. Decades of Alaris innovation have been built on the premise that the best information demands the best images, and continued industry leadership delivers on the "Makes Sense" promise.
A new video is available to offer a closer look at the Alaris brand. Please click here to view it.