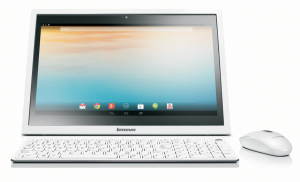 Lenovo has announced several new desktop PCs at CES, and in a move that's sure to give Microsoft heartburn, one of these new machines is an all-in-one that runs the Android operating system, not Windows.
Here is a rundown of what it has unveiled at the Las Vegas trade show.
N308 Table PC
Lenovo's N308 is an all-in-one PC based on an unnannouced (as of January 3. 2013) Nvidia's quad-core Tegra processor, which Lenovo described as "higher than" Nvidia's Tegra 4. It runs Android Jelly Bean 4.2. The computer includes a 19.5-inch TN (twisted nematic) touchscreen with resolution of 1600 by 900 pixels and two touch points; 2GB of DDR3/1600 memory; a 10/100 ethernet port, and a 500GB, 5400 rpm hard drive. The luggable enclosure is 1.3 inches thick, weighs 10.4 pounds, and can run on battery power for up to three hours. The stand adjusts to any angle, including completely flat – 180 degrees.
The N308 comes with a wireless keyboard and mouse, but it also has two USB 2.0 ports and a 6-in-1 card reader. Network connectivity is in the form of an integrated dual-band 802.11b/g/n Wi-Fi adapter, Bluetooth 4.0, and hard-wired ethernet. The enclosure has built-in stereo speakers, mic and headphone jacks, and a 720p webcam. Prices for the N308 will start at $450 when the machine ships in February.
Horizon 2 Table PC
Lenovo has slimmed down one of our favorite all-in-one PCs of 2013, the 27-inch Horizon, and beefed it up with a higher-resolution display to create the Horizon 2. The new machine will be available with up to a fourth-generation Intel Core i7 processor, 8GB of DDR3 memory, an Nvidia graphics processor, and a 500GB hybrid hard drive with an 8GB SSD cache.
Top-of-the-line SKUs will have touchscreens with resolution of 2560 x 1440 pixels, while lesser models will be outfitted with 1920 x 1080 touch displays. Connectivity features include 802.11b/g/n (with 802.11ac available as an option) and Bluetooth 4.0. The machine also supports NFC, which can be used to automatically "pull" content from a smartphone placed on its screen and display it on the computer's screen. The Horizon 2 has three USB 3.0 ports, HDMI-in, an integrated mic, and integrated stereo speakers.
As with the original, the Horizon 2 can tilt back to nearly any angle, or you can lay it flat to operate like a giant tablet. The new machine can run on battery power for up to four hours, and it's compatible with Lenovo's optional Horizon cart. Although the Horizon 2 is thinner than the original ( 0.77 versus 1.17 inches), it remains hefty for a transportable computer: 16.8 versus 18.95 pounds). Prices will start at $1499 when the Horizon 2 ships in June.

A740 All-in-One PC
Lenovo says its new A740 is the thinnest all-in-one in its class, measuring just 0.15 inches at its thinnest point. The A740 will be available with up to a fourth-generation Intel Core i7 processor, 8GB of DDR3 memory, Nvidia discrete graphics, 1TB of storage, and a 10-point touchscreen with resolution of 2560 by 1440 pixels. The standard configuration will have a 1920-by-1080-pixel display with Intel integrated graphics.
Connectivity features will include 802.11ac Wi-Fi and Bluetooth 4.0. The A740 will have three USB 3.0 ports, a 6-in-1 card reader, NFC, a 720 webcam, and HDMI-in. The computer's 27-inch can be oriented to a 90-degree angle to lay completely flat. Prices for the A740 will start at $1499 when the computer ships in June.
C560 All-in-One PC
Lenovo is positioning its new C560 as a mainstream all-in-one, but it has at least two features PC enthusiasts will appreciate: An HDMI output, so you can drive a second display; and a tool-free enclosure that can be easily opened to add memory and storage.
Consumers can choose from a wide array of Intel processors, ranging from Pentium and Celerons at the low end to a Core i7-4770T at the high end. The C560's 23-inch, 1920-by-1080-pixel display (multitouch optional) can be driven by integrated Intel Graphics, or customers can step up to an optional Nvidia GeForce 705A discrete GPU.
The C560 can be ordered with up to 8GB of DDR3 memory; up to a 7200-rpm, 2TB hard drive; and a DVD burner. It comes with 2 USB 3.0 ports, 4 USB 2.0 ports, a Wi-Fi adapter, and a 6-in-1 card reader. Prices for the Lenovo C560 will start at $659 when it begins shipping in February.
Originally published on PC World (US). Reprinted with permission from IDG.net. Story copyright 2018 International Data Group. All rights reserved.