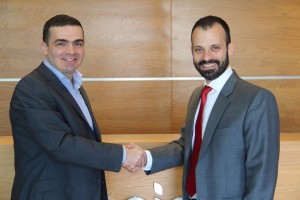 Logicom Group has signed a 'value-added distribution (VAD)' partnership agreement with CommVault. The agreement allows Logicom to distribute the data and information  management vendor's products and services into KSA, UAE, Lebanon, Jordan, Iraq, Oman, Qatar, Kuwait, Bahrain, Yemen and Afghanistan through its network of resellers and system integrators.
Nicholas Argyrides, Director of Sales and Marketing, Distribution, Logicom Group said, "CommVault's state-of-the-art data management and security solutions are a seamless fit to Logicom's current brand portfolio and they orderly supplement our channel offerings. As we anticipate a substantial growth in the data storage and backup verticals, we are confident that our collaboration with CommVault will fully address the needs of our enterprise channel partners."
Logicom initially plans to focus its efforts on expanding CommVault's footprint in high-growth markets like KSA, UAE, Kuwait, Qatar and Oman, according to a statement released from the company. The distributor intends recruiting a minimum of 15 to 20 new partners within the first two quarters of operation and grow it to 30 partners within FY'2014. It will position CommVault both as a stand-alone product and also as a part of its data centre integrated converged architecture offering and are looking at building CommVault into storage value-bundles for its channel partners.
The statement also said that as part of its channel enablement strategy, Logicom will conduct sales and pre-sales training workshops for select partners that have been identified, with the objective of training and certifying them on CommVault products and services. The vendor's sales and pre-sales training modules will be integrated into Logicom's data centre programmes including webinars and service provider enablement courses. The distirbutor will also run regular, CommVault related demo and proof of concept sessions for its partners.
Martin Gibbons, Director of Distribution, EMEA, CommVault said, "As we look to tap into the huge business potential in the region, we find it critical that we form alliances with key partners that share our vision and have the capabilities and resources to help us grow. Logicom is an established value-added distributor for more than a decade, having a holistic, solution-oriented approach to the business. With a solid partner network, a comprehensive storage portfolio which includes some of our technology partners and a focus on the data centre vertical which is a key area for us, Logicom makes an ideal partner for our company."