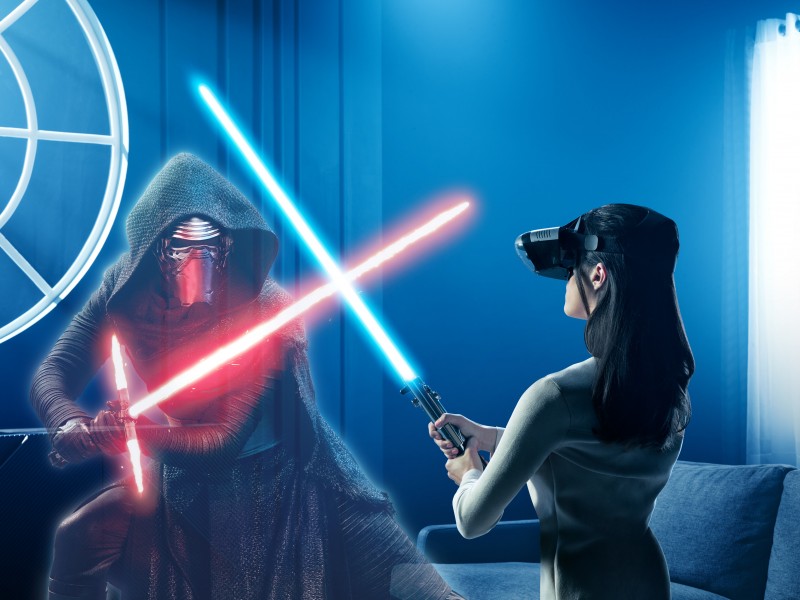 Lenovo and Disney, in partnership with Etisalat, are bringing Star Wars: Jedi Challenges, a new smartphone-powered augmented reality product, to local retailers — allowing fans to experience Star Wars in a new way at home.
Each box comes with the Lenovo Mirage AR headset, Lightsaber controller and Tracking Beacon that players use to hone their Jedi skills, offering hours of multi-level gameplay.
Players begin their journey by discovering a Holocron – a "Jedi object that stores knowledge". It can reproduce holograms of any person, place or thing from within the Star Wars story.
The Holocron manifests a representation of Jedi history, The Archivist, to train the player to be a Jedi.
The Archivist guides and tests players, and assists them through trials of Lightsaber Battles, Strategic Combat and Holochess. Winning trials result in increasingly more challenging confrontations, unlocking progressions through the ranks of the Jedi.
The Archivist uses the Holocron to project images and challenges inspired by events in the Star Wars galaxy.
Star Wars: Jedi Challenges features three gameplay modes players must master in their journey to becoming a Jedi.
An Android or iOS-compatible phone and the Jedi Challenges companion app are required.
Jedi Challenges will be available in the UAE across all major retailers and select Etisalat stores from 15 November for AED 1,199.