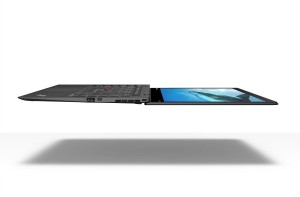 Lenovo today announced the UAE launches of the latest additions to its ThinkPad portfolio with the third generation ThinkPad X1 Carbon and the ThinkPad 8.
The X1 Carbon weighs 2.8 pounds, and Lenovo claims it is the world's lightest 14-inch Ultrabook.
It features the Adaptive Keyboard, which adjusts based on the software or application being used to highlight the most relevant keys.
It also integrates voice and gesture control, and utilises Rapid Charge technology, providing an 80% charge in under an hour.
"The new ThinkPad X1 Carbon is a natural evolution of our PC+ portfolio and a further step in fulfilling our promise to bring innovative personal machines to customers in the UAE," said Dilip Bhatia, Vice President, ThinkPad Product Marketing, Lenovo.
"It's a complete PC on-the-go. It's got a full HD panel and its major advantage is the USB 3.0 dock which means it is as good as any PC as it can be plugged into any business productivity tool. People always want thinner devices at the right value and this is the perfect product in that respect."
The ThinkPad is an 8-inch tablet constructed of machine-cut aluminum, which can connect to a keyboard and display for a full PC experience.
It features a Quickshot cover, which reveals an 8 MP camera.
It has an 8.3-inch 1920×1200 display, and a microHDMI port. Supporting a PC experience, ThinkPad 8 contains an Intel Bay Trail Quad Core processor, up to 128GB of storage, a microUSB 3.0 port, LTE2 connectivity and a full Windows8 Pro experience for professional needs.
"The ThinkPad 8 is perfect for people consuming data on the go," Bhatia added. He also believes the recent acquisitions of Motorola Mobility and IBM's x86 server business will make Lenovo a more complete force in the market, "The acquisitions will be hugely beneficial for the company and will benefit our investors and value chain.
"It will give our brand a huge advantage as people know they can come to us for smartphones, tablets and servers, as well as PCs."
The X1 Carbon Ultrabook and ThinkPad 8 tablet are available mid-February, starting at AED 6,250 and AED 2,000 respectively.