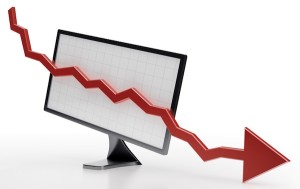 Analysts at both Gartner and IDC reported the seventh straight quarter of declining PC shipments, although both firms saw a light at the end of the tunnel.
Of the top PC vendors, Lenovo widened its lead over HP and Dell on a worldwide basis during the fourth quarter of 2013, as the Chinese PC maker was one of the few to show positive growth.
The decline of the traditional PC has become almost an accepted fact, with Windows 8 and Windows 8.1 having failed to stem the tide of users rushing to tablets and phones. IDC reported that the PC market slipped 5.6 percent to 82.2 million units, better than the 6.0 percent that the firm expected. Gartner said that the dip was 6.9 percent from a year ago, to 82.6 million units.
Still, both market-research firms at least spoke somewhat positively about the future.
"Although PC shipments continued to decline in the worldwide market in the fourth quarter, we increasingly believe markets, such as the U.S., have bottomed out as the adjustment to the installed base slows," said Mikako Kitagawa, Principal Analyst, Gartner. "Strong growth in tablets continued to negatively impact PC growth in emerging markets. In emerging markets, the first connected device for consumers is most likely a smartphone, and their first computing device is a tablet. As a result, the adoption of PCs in emerging markets will be slower as consumers skip PCs for tablets."
For 2013, IDC said, total PC shipments declined 10 percent, as consumers continued to take a wait-and-see attitude. "Total shipments have now declined for seven consecutive quarters, and even the holiday shopping season was unable to inspire a turn in consumer spending," Loren Loverde, an analyst at IDC, said in a statement.
Both firms reported that while Lenovo increased worldwide PC sales during the fourth quarter, HP, which was in second place, saw units shipments fall. IDC said that Lenovo's sales grew 9 percent to 15.3 million units, or an 18.6 percent market share. HP saw sales fall by 8.5 percent to 13.8 million units, or 16.8 percent share. Dell saw sales grew about 5.8 percent, giving it 12.2 percent market share. Acer's sales plunged more than 21 percent, giving it 6.4 percent of the market, slightly higher than Asus, at 6.1 percent market share.
The key, according to IDC, will be lower cost thin-and-light products.
"Holiday sales of technology products were strong in the U.S. market, but consumer spending during the holidays did not come back to PCs as tablets were one of the hottest holiday items," said Kitagawa. "We think that the U.S. PC market has bottomed out. A variety of new form factors, such as hybrid notebooks, drew holiday shoppers' attention, but the market size was very small at the time. Lowering the price point of thin and light products started encouraging the PC replacement and potentially some PC growth in 2014."