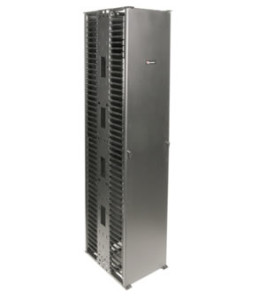 Siemon has launched RouteIT in the Middle East, a new vertical and horizontal cable management system, specifically designed for high density enterprise and data centre cabling systems.
RouteIT cable managers provide a system for readily routing and protecting both horizontal cables and patch cords, to support high speed network cabling systems. The high capacity, field-replaceable fingers can easily accommodate more than 48 category 6A cables, to work seamlessly with high density patch panels and blade switches, while offering a finger radius that prevents deformation of cables entering or exiting the vertical managers, says the company.
The double-sided vertical manager has matching front and rear fingers and doors, plus adjustable divider brackets offer flexibility to accommodate capacity where it's needed – at the front for patch cords, or at the rear for horizontal cables. Available in 1U, 2U and 4U sizes, the RouteIT horizontal cable managers also feature removable dual-hinge covers for easy access.
Vertical RouteIT cable managers feature full-length, dual-hinged doors that protect and conceal the cabling, providing a high quality appearance.  A single finger latch operation gives quick and easy access from both sides and the doors can be completely removed during initial loading.
The RouteIT vertical cable manager is PDU-ready, with multiple attachment points for optional tool-less button mounting of PDUs within double-sided managers, or at the rear of single-sided managers. The vertical manager's six inch central frame depth is optimised to match the rail depth of cabling-purposed racks for maximum capacity, while its free standing design enables easy staging and positioning of cable managers prior to attachment.