In the October edition of Reseller Middle East, we managed to secure exclusive interviews with Claude Schuck and Amir Akhtar, the dynamic duo that are driving Veeam's channel and cloud businesses in the MENA region.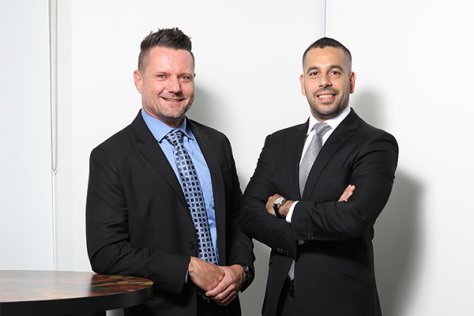 Veeam has been a disruptive force since its entry into the market in 2006 and has become the go-to player for enterprises looking to transition towards the cloud. Claude Schuck, Regional Manager of the Middle East and Amir Akhtar, Manager of Channel, Middle East at Veeam discussed the challenges and opportunities in the current market climate, the impact disruptive technologies are having on the ICT ecosystem, its channel business, and how the global software company continues to reinforce its status as a visionary leader in the GCC region.
How important is the channel business to the overall growth of Veeam?
Amir Akhtar: Channel is an instrumental part of the overall business and to our success. Veeam has had a 100% channel model since the company was founded. We do all of our business through the channel, so our partners are our differentiators. We ensure that our growth is aligned with the open market conditions which means that we really need to understand our existing and potential channel to see what opportunities and challenges we may encounter, taking partners that buy into our strategy on the journey with us. I've seen a lot of vendors come to the market with a business plan specific to their business, but they've failed to take into consideration whether or not it is planned and correlated with the channel ecosystem and the opportunities for partners. If it isn't collaborative then it's not going to get adopted, especially when your go-to-market strategy relies on the channel. You have to be relevant and Veeam offers a clear model that inspires confidence with partners.
You've been tasked with the responsibility of spearheading regional enterprises transition to the cloud. Can you give us an overview on this challenge?
Claude Shuck: It's a very interesting time, especially in the Middle East. People have been talking about cloud for a long time but when you mention cloud, it means many things to many people and for most people it means something out there that they can't control. Cloud, is a touch and feel thing and cloud or workloads hosted could be on-prem or off-prem. However, I believe we're now at an affliction point as the big cloud providers have put down bricks and mortar in the Middle East and that's the springboard. Every single customer and partner we speak to wants to know how they can enable that in their business in order to make it more efficient and leverage what they haven't had before.
What differentiates Veeam from other Vendors?
Amir Akhtar: Veeam's Act I was creating and dominating the VMware backup market. We have been the leader for the last decade. In 2006, we boldly claimed that we were going to be the go-to back-up solution for virtualisation, but back then people were saying virtualisation was never going to fly as everything is physical hardware. Some of our biggest competitors back then were saying that Veeam was going to be out of business within the next 12 months. However, we're now the company which has completely turned that on its head. Veeam competitors have walked away from traditional-based back-up solutions and are now trying to do what we did 10 years ago. The co-founders of Veeam were extraordinarily visionary in the way the industry was evolving and identified the potential of virtualisation. Veeam's partner-centric strategy has been the foundation for our success. Our ability to adapt to ever-changing market trends continues as the company enters Act II as the leader in Cloud Data Management. From day one, Veeam has focused on partnerships to deliver customer value and our Net Promoter Score (NPS) is 3.5 times the industry average, putting us alongside some of the biggest brands in the world such as Apple and Tesla. The key for us is the simplicity of our technology. It works, it's simple to plug and play and our support is exceptional that make Veeam the No.1 market leader in EMEA.
Enterprises in the Middle East have talked about the issues of 'dark data' and a lack of visibility. What sort of new trends and technologies are you seeing emerge that can help them address these challenges?
Claude Schuck: I spent a lot of time with one of the major cloud providers in the US at a conference recently and they spoke about managing data. They highlighted analytics in that space and how easy it has become to utilize those services. I was blown away by some of the technologies that are coming to those platforms. One of the things that struck me is that if I was a CIO of a company, specifically in the Middle East, and I landed back in the region after seeing the vision for Cloud Data Management on display at that conference, I'd be asking myself some questions. How much hardware do I still need? How can I leverage my data in the cloud? These organisations are searching for the next niche and the next differentiator to make sure they compete effectively against their competition. They've found it in the form of data. The power of data when it sits there in terms of what you can do with it, how you can analyse it, and how you utilize and move it is very, very powerful. At Veeam, we are working closely with our customers to manage their data and unlock its use and potential to drive business transformation, without creating vendor lock-in and looking after their IP to ensure their business is up and running all the time.
The UAE has faced some economic challenges over the last 12 months, but how has business been for Veeam in the Middle East?
Amir Akhtar: Economically we all know it's been a challenge for the last 12 months. I personally feel that budgets from an end-user perspective haven't rebounded following the oil crash. People are now looking to do more with less and this is one of the reasons we've had an increased adoption of cloud in the Middle East. Historically in the region, end-users spent a significant amount of money in their own data centers, but only had a short-term vision. Now that budgets are being scrutinised, they've got to be much more stringent in terms of where and how they spend it and show greater ROIs.
We're now seeing a rapid evolution towards next-generation technologies like cloud, AI and Business Intelligence creating data management challenges where customers are looking burdens and again where Veeam helps customers to cure these pains. If they can streamline their processes internally by investing in these new technologies, then they can show a quicker ROI and a lower TCO. That's where I see the market heading. We want to focus on key partners that we know deliver the best of breed solutions across both Veeam and our alliances. This adds much more value for us, our customers and partners us, the channel and the end user. Overall, the Veeam business model has been very resilient to the economic climate and as a result we are continuing to grow our business exponentially year on year.
What sort of services are you offering in the enterprise space that allows major organizations to take advantage of?
Claude Schuck: We've got the platform, but we need to develop services around it. Is it backup-as-a-service, is it Disaster Recovery-as-a-service or is it AI-as-a-service? We've got to start monetising these emerging technologies. We've got the Availability Platform, so a big focus over the next 2-3 months will be helping service providers and telecommunication operators monetise these services. It's one thing telling them to take our product and run, but we need to design something that they can sell to their customers and consume.