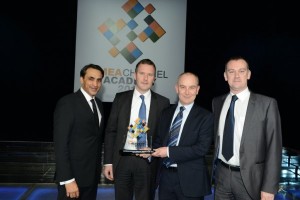 Lenovo won its third consecutive notebook and desktop Vendor of the Year award at the recent EMEA Channel Academy Awards last week.
The ceremony was part of the DISTREE EMEA conference, held annually in Monte Carlo and attracting over 1,000 attendees.
Vendors were judged on a number of criteria, including channel strategy, pricing and stock management, product evolution, partner programmes and marketing in 12 different categories. Each one is dedicated to a specific product segment.
Lenovo beat vendors such as Acer, Dell, HP and Toshiba to the Vendor of the Year award in a live electronic vote by hundreds of senior channel executives at DISTREE's awards gala dinner.
"Awards voted by our partners and the direct feedback from our resellers are the best endorsement and recognition of Lenovo's channel strategy, programmes and partner engagement," said Neil Berville, Executive Director of Channels, Programmes and Alliances for EMEA, Lenovo, who collected the award.
"This award, in particular, is also a great accolade of the strong teamwork by the Lenovo EMEA organisation and our do culture in action."
In addition, Context's Channel Watch research at the conference revealed that Lenovo is the brand that most resellers are thinking of adding to their portfolio this year. This was based on responses from 1,725 resellers.
"The channel base and the increasing commitment to Lenovo will provide the engine for growth as we move into our new financial year and strive to become the leading personal technology company in EMEA," Berville added.