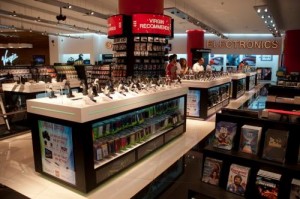 CompuMe on Wednesday announced a number of expansion plans for the UAE, pledging to increase its presence in Virgin Megastores and Carrefour Markets across the country.
The retailer will now brand itself as "CompuMe @ Virgin" in Virgin Megastores, a statement said. CompuMe added that its relationship with Virgin continues to grow, showing a 40-percent, year-on-year business growth.
Business with Carrefour Markets will also expand, the statement said, with CompuMe pledging to increase its presence at these stores over the coming three years.
"As we are constantly seeking the best ways to reach out to all our customers and partners wherever they are, we are happy and proud with our growing partnership and presence in Virgin Megastores and Carrefour Markets," said Dikran Tchablakin, CEO, CompuMe.
"We will also be announcing new ventures that aim to increase CompuMe's market share not only in the UAE, but also across the entire region."
Tchablakin added that CompuMe has shown strong growth since its management buyout in 2010, saying that the retailer had "fulfilled all its obligations and has grown its business on solid financial grounds.
"Today, CompuMe is the largest management company for store-in-store concepts and has grown smarter, more productive and more approachable by both customers and partners together," he said.
CompuMe's statement added that its Mall of the Emirates store will cease operations on February 28, due to mall management remerchandising the store area. A new store location will be announced in the near future, CompuMe said.