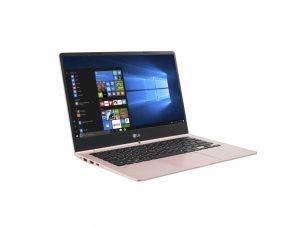 LG's newest LG Gram, allows users to balance work and entertainment anywhere they go. The LG Gram (model 15Z970-T) is now available in the UAE, allowing users to enjoy optimal productivity as well as mobility, said the company.
Lightweight and portable, the LG Gram (model 15Z970-T) enjoys a slim and compact body.  The 15.6-inch display has a compact 14-inch body. A slim bezel helps the large display fit into a smaller body. This combination of slim bezel and compact body ensures high portability wherever users go. And for immersive viewing, the LG gram provides a borderless screen with narrow bezel on all four sides. It offers a much wider screen and more rewarding visual experience despite its small body frame.
The body frame combines Nano carbon, a cutting-edge material developed by LG, and easily formable magnesium, more commonly used in electric cars. The materials have been carefully chosen for their strength and resistance to external shock.
With the LG Gram's Full HD IPS display (1920X1080), it provides good picture quality through color accuracy, visual contrast and clarity for a richer viewing experience. The laptop also provides two levels of backlighting, making it much easier for work. When users push the power button, the keyboard's backlight welcomes them when they prefer to work in a dark environment as the keyboard brightness easily adjusts to two levels. In addition, the advanced Reader Mode software offers customised screen conditions for reading, providing ideal conditions by minimising exposure to harmful blue light and reducing eye fatigue.
Thanks to the most up-to-date 7th Generation Intel Core Processor and up to 512 GB SSD as well as DDR4 memory, the LG Gram offers the utmost performance for productivity and creativity according to the firm. And the Windows 10 offers new features, creating virtual desktops, snapping up to four apps on the screen and advanced pop-up notification to support multitasking during work or play.
Finally, the 141 percent larger fan with Silent Mode introduced with the Intel DPTF (Dynamic Power Thermal Framework) is directly control of fan spinning as over standard temperature. It helps to reduce heat and minimise noise and is a perfect fit for a much-needed silent work environment.
LG Gram (model 15Z970-T) is now available in Dark Grey at all leading electronics showrooms and leading hypermarkets across UAE.