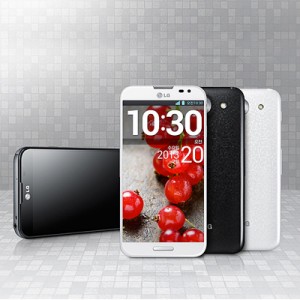 LG Electronics has taken the fight to Samsung's Galaxy Note 2, having revealed its new Optimus G Pro on Monday, which, LG says, is a direct competitor to the hugely successful phablet.
The new device will have a 5.5-inch screen, similar to the Note, but will boast a much higher resolution of 1,920 by 1,080, giving it 400 pixels per inch, on an IPS (in-plane switching) screen with stronger colours and wider viewing angles, LG said. The Note's screen has a 267 pixel-per-inch Super AMOLED screen with a resolution of 1,280 by 720.
The new Optimus G Pro will go on sale Wednesday in South Korea for 968,000 won ($898). The company expects to launch it in Japan and North America in the second quarter, said Chang Ma, vice president of marketing strategy at the company, during a news conference in Seoul. The company also said it will show the phone at Mobile World Congress in Barcelona, Spain, next week.
With the introduction of another device in its high-end Optimus G series, LG is attempting to squeeze into the premium smartphone market already dominated by Samsung and Apple. It also competes with cheaper Chinese brands such as Huawei Technologies and ZTE in the low-end market.
Ma said that as the number of smartphone users rises globally, the Korean company sees demand for different features globally.
"In Korea, a large screen is in demand, while in the neighboring countries, users prefer a better grip, so we have different specs for local and global markets," Ma said.
The Optimus G Pro also features a 3,140mAh battery, which is removable and supports wireless charging. It is equipped with a 13-megapixel camera and has a 1.7GHz quad-core Qualcomm Snapdragon processor running Android 4.1.2 Jelly Bean.
LG's new device supports features including automatic response to texts. The company showed a demonstration in which users can send messages from a separate device with questions such as "Where are you?" and "What's the phone number of my wife?" directly to the handset.
It also supports dual recording from its two cameras, so the person wielding the device can appear along with the video they are recording.