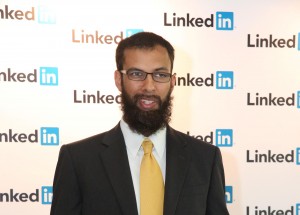 LinkedIn today announced the opening of its first office in the Middle East and North Africa, where a new team will support a growing membership and client base.
Located in Dubai's Internet City, the office will serve as regional headquarters to over five million members in the MENA region, one million of which are based in the UAE.
Farhan Syed, Director, Global Sales Strategy, LinkedIn, who came to Dubai for today's launch event, said: "We are very excited to be opening an office here in Dubai – a city recognised by the world as a crossroads for global business exchange. Members are already networking in over 2,000 LinkedIn Groups in the region, exchanging strategic business insights and exploring opportunities together. Having a strong local presence will help serve our members better here, ultimately making them more productive and successful."
Joining Syed at the launch event was Fadi Salem, Director, Governance and Innovation Program, Dubai School of Government.
"Our research in the Arab Social Media Report series shows that the MENA region has witnessed exponential growth in social media usage, with usage trends shifting from primarily fulfilling social needs back in 2010 to political and societal usage in 2011," Salem said.
"In 2012 strong growth continues, coupled with maturity and yet another shift in usage trends, where a critical mass of users now heavily relying on such social media platforms to develop new business and entrepreneurial initiatives. We are witnessing increased opportunities for employment, start-ups and social entrepreneurship leading to economic empowerment of a large group of youth in the region," he added.
To address its growing customer base, LinkedIn has also appointed Ali Matar as Head of Hiring Solutions, MENA. Matar will be responsible for growing LinkedIn's Hiring Solutions business which enables employers to find and recruit the best active and passive talent.
LinkedIn also represents a valuable demographic for marketers with affluent and influential members. LinkedIn Marketing Solutions will continue to be mostly sold through its partnership with Clique Media to local clients.
This latest expansion follows the opening of LinkedIn's Spanish office in March and brings the number of LinkedIn offices in EMEA to nine, including Paris, Stockholm, London, Munich, Milan, Dublin, Amsterdam, Madrid and now Dubai.
LinkedIn's Dubai office will service the needs of member and clients across the MENA region, including the UAE, Kingdom of Saudi Arabia, Qatar, Kuwait, Bahrain, Oman, Egypt, Libya, Syria, Lebanon, Jordan, Iraq, Pakistan and Yemen.