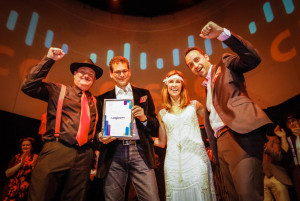 Logicom was awarded 'EMEAR Services Distributor of the Year' at Cisco's recent EMEAR Distribution Business Forum.
From over 120 European distributors, Logicom was presented with the award at the ceremony held at Madrid recently. This accolade recognises the hard work and contributions of the Cisco teams across all Logicom's regions. According to the company, it is a well-deserved recognition, following a good year of 152 percent YoY growth in the Cisco Services business.
The award was presented by Cisco's Mathew Pickergill, EMEAR Distributor Services Manager, and Rachel D Forke, Director of WW Services Partners – Distribution, to Logicom's Director of Distribution, Michael Papaeracleous, and Logicom's Cisco Services BDM, Paris Dimitriou. Upon presenting the award Pickergill said,  "This time last year, I challenged everyone to double their numbers, and they came and trebled their numbers for Services in multiple countries. The two countries that were unbelievably outstanding were Saudi Arabia and Romania. Thus, the EMEAR Services Champions this year are undoubtedly Logicom"
Papaeracleous said, "I would like to extend my sincerest gratitude to all of our Cisco teams in our countries who made this possible. Through their dedication and focus, we managed to differentiate Logicom from our competition and raise the bar to such heights that led to ending the year with such great recognition from Cisco."
"Everyone in the Logicom family contributed in achieving this fantastic result and a big congratulations is in order for everyone," added Dimitriou.