Abu Dhabi commuters will soon be able to experience efficient and sustainable travel within the emirate.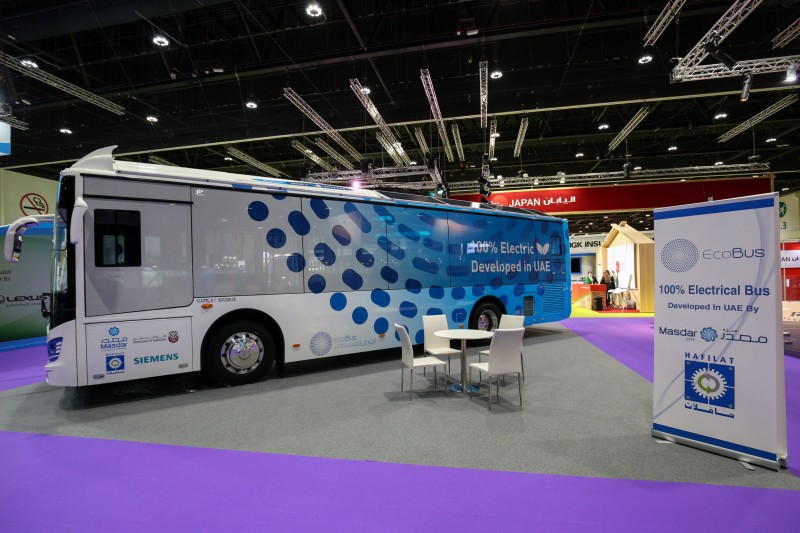 Masdar, Abu Dhabi Future Energy Company, has unveiled the all-electric Eco-Bus, which was jointly developed by Masdar and Abu Dhabi-based Hafilat Industry in collaboration with the Masdar Institute, part of Khalifa University of Science and Technology.
The vehicle's prototype was unveiled at the on-going Abu Dhabi Sustainability Week.
"Urban sustainability will increasingly be defined by innovation in mobility, and Masdar City will be at the centre of this shift towards more sustainable transport solutions," said Yousef Baselaib, Executive Director of Sustainable Real Estate at Masdar.
According to WAM, the Eco-Bus will shortly undergo trials at Masdar City in Abu Dhabi as engineers evaluate the performance of its battery and electrical systems in the UAE's arid conditions.
"The Eco-Bus is an impressive example of homegrown clean-tech innovation and a model collaboration between UAE and international experts. Rolling out the Eco-Bus for use at Masdar City will hopefully inspire other UAE clean-tech innovators while enhancing the performance of electric buses in hot climates."
The Eco-Bus runs an engine provided by Masdar's technology partner Siemens, which gives the vehicle a range of 150 kilometres per charge while minimising the size and weight of its battery.
It has a lightweight aluminium body and uses more temperature-resistant, water-cool batteries located at its rear to enhance space efficiency. It also features both advanced air-conditioning and electrochromic windows to enhance shading.
At 10.5 metres in length, 2.5 metres wide, and more than a metre lower at 3.2 metres. It seats 27 with safe-standing room for additional passengers. A low-entry floor offers easy boarding.
Khalid Al Hashim, Executive Director for Surface Transport at Abu Dhabi Department of Transport, said, high temperatures that the UAE experiences throughout the year have been an obstacle to the wider use of electric vehicles in the Gulf and it is one the issues Eco-Bus promises to address.
"We applaud the team behind this successful prototype and look forward to seeing the results of its performance tests," he said. "The Eco-Bus integrates with a number of sustainable mobility initiatives under way in Abu Dhabi and the UAE and complements the diversification goals of the UAE Vision 2021."