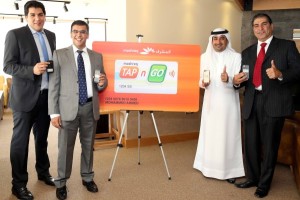 Mashreq Bank has launched Tap n Go, the UAE's first Near Field Communication Sticker solution.
The Tap n Go Sticker converts any mobile phone into a credit card that can then be used to make contactless payments at thousands of retail outlets in the UAE and abroad.
It is already accepted at over 4000 merchants in the UAE.
"Our aim is to simplify and make mobile payments extremely accessible," Nimish Dwivedi, Head of Payments, Mashreq, said. "The challenge today is the complexity of existing mobile payment solutions that compulsorily require the customer to have a smart phone, download a mobile app, link a funding source. Mashreq removes all this complexity through this unique Tap n Go Sticker. Whether you're buying groceries, cinema tickets or even a cup of coffee, just tap your phone on the terminal to make payments less than AED 100 instantly and securely. No swiping. No signing. No waiting. Just Tap n Go."
Existing Mashreq credit card customers can apply for the Tap n Go Sticker through MashreqOnline or the 24X7 Direct Banking Centre while new Mashreq customers can get their Stickers by applying for a Mashreq credit card.
Every Tap n Go Sticker has its own 16 digit number and is linked to an existing Mashreq credit card.