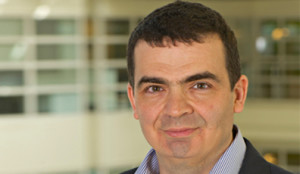 Martin Gibbons, Director of Distribution EMEA, CommVault, explains channel initiatives and business focus for the company in the current year. 
How do you stack up against competition?
Firstly, we issue a channel strategy, which is 100 percent channel. CommVault is growing fast and we are an agile company. We make quick decisions, and most importantly—we listen to our channel. We have disruptive best-in-breed technologies, many of our partners recognise this. It allows you to unlock hardware-based buying decisions. The intelligence lies in the software layer in terms of data management. CommVault is completely hardware agnostic. All these and the agility factor, allow us to compete against the big players.
How do you manage unstructured data? Do you have a play in Big Data and cloud?
It depends on the definition of Big Data. We cater to small companies and even personal and individual users at home. Our technology is ideally placed to help both businesses and users within the business, using more mobile devices to keep control of the data. We help in storing up on an appropriate technology to be able to search for and index the data, to be able to turn it into information that is relevant for the business rather than just simply store it.
Cloud is also a massive growth area for us. We have been building out cloud services group, which has been in operation now for about a year. And we will continue to invest in that area.
How has the uptake been for data and information management products in the region?
We have seen very good growth here. We have grown the team extensively over the last two years. We have grown our business and our partner base here. We have good relationships with our OEM and alliance partners. You only have to come to places such as Dubai to notice the energy about the place, significant business happening here and the place is experiencing the same kind of data explosion that is happening across the globe.
However, security is still an issue when it comes to data but CommVault is well placed to deal with that. Security for data is obviously very important for our customers and we have encryption technologies.
What would you say is a sweet spot for CommVault in terms of size and verticals?
The sweet spot is completely across the board. A large part of our business is fueled by growth from our enterprise business because at the high end, there is a lot of complexity and progress. We are ideally positioned and have won many businesses in that space.
Also, we are seeing growth in SMEs and SMBs type of business. Data explosion is taking place there as well. As they too, go through the same kind of complexity and legacy solutions, they are not quite scaling up to meet the demands, which is where CommVault's sweet spot is really. Almost 100 percent of our businesses is a swop-out of old legacy technologies.
How are you enabling your channel partners?
There is a variety of different ways with which we are doing that. Last year in February, we launched, a new set of Simpana 10 online training, which is a new accreditation for the channel. We are putting more resources into channel enablement and have people within CommVault who are focused on that specific area. A year ago, we launched partner enablement centre and will continue to develop that piece of channel as well. Things like solutions enablement toolkits are available from our online portal, allowing partners to build campaigns. It is important for the channel community to come up with new refreshed ideas, and we are constantly on the lookout to see how else we can help partners. We are a listening company— we listen to the channel, understand the way in which they wish to go. We listen to their feedback and we respond to it.
What is your focus for this year?
This year, one of my big focuses is on distribution channel. We are always looking at the channel to see if we have got the right kind of partnerships on board. In some instances, we are looking to streamline this and in other instances, we may look for new partnerships to bring on board. Logicom is a classic example of that. We needed a strong partner with a good presence. We are not afraid to sign new partnerships, and at the same time, we are not afraid to review our existing ones to ensure they are working for both, us and the partners.
Could you elaborate on your partner programmes?
We have a multi-tiered partner programme at the moment. However, this month, we are going to overhaul that. We have rolled out a new worldwide programme. While there might not be anything revolutionary in there, it will, however, enable partners to understand where they sit within the CommVault community. We will be looking to deepen the rewards for a closer partnership with our top end focus partners. The more you invest in CommVault, the more we want to invest back in the channel. This is what the world wide partner programme is going to set out to be. //